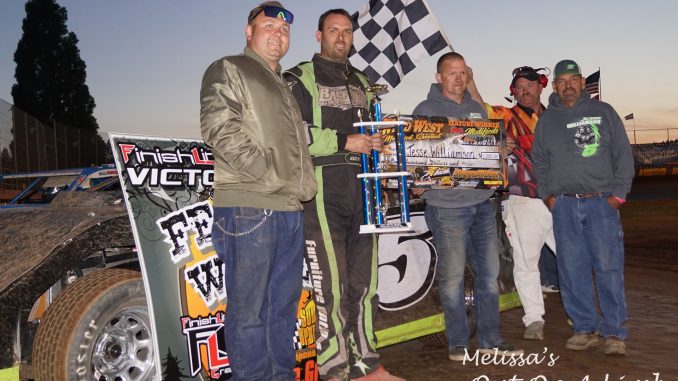 By Ben Deatherage
BANKS, Ore. (June 28) – A three-time champion of the Wild West IMCA Modified Shootout got his first win of the 2017 tour Wednesday at Sunset Speedway Park.
Jesse Williamson caught Collen Winebarger on the 19th lap, making up distance after Winebarger had gotten into heavy lapped traffic, then led to the $1,000 checkers.
Williamson, already a Fast Shafts All-Star Invitational ballot candidate, went on to the win ahead of Winebarger, Ethan Dotson, Aaron Elwess and Bricen James.
The main event went non-stop and all 20 cars that started the race were still running when the checkers flew.
Winebarger had started from the pole and remained in charge up front before catching up with the back of the field. Williamson maneuvered through traffic to pressure then pass Winebarger.
The victory was his career third at Banks and tour leading ninth overall. The fifth different winner in as many Shootout events this year, Winebarger was tour champion in 2012, 2013 and 2015.
The Wild West Modified Shootout heads next to Willamette Speedway for three straight nights of action on June 29, June 30 and July 1. It will be the first time the tour will end with a three race finale at the same facility.
Feature results – 1. Jesse Williamson; 2. Collen Winebarger; 3. Ethan Dotson; 4. Aaron Elwess; 5. Bricen James; 6. Grey Ferrando; 7. Kenny Miller; 8. Craig Cassell; 9. Jeff Lovell; 10. John Campos; 11. Jeremy Shank; 12. Brian Pearce; 13. Brad Martin; 14. Doug Lockwood; 15. Brian Thompson; 16. Mark Wauge; 17. Steve Moore; 18. Mark Reser; 19. Bubba Foster; 20. Brandon Potter.