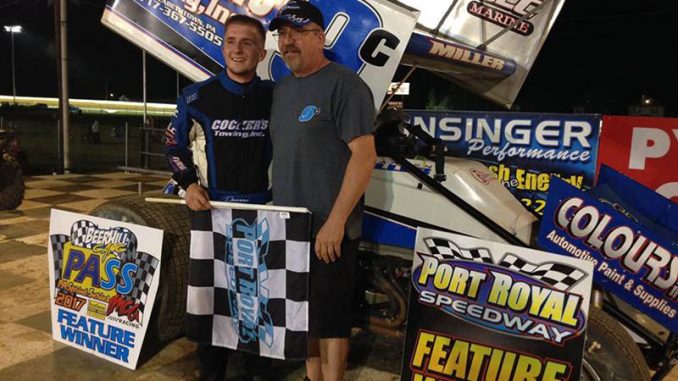 PORT ROYAL, Pa. (June 24) – Darren Miller wired the field in the 18-lap Pennsylvania Sprint Se­ries main event for the first win of his career Saturday at Port Royal Speedway.
Jeff Miller raced into second early from the sixth starting spot and kept the leader honest the en­tire distance of the IMCA RaceSaver Sprint Car headliner.
Only on the final lap, as the pair headed to the checkered flag and Darren Miller got bottled up by traffic was Jeff Miller able to challenge, albeit unsuccessfully.
Tyler Reeser rode home third followed by Cale Reigle and Ken Duke Jr.
Feature results – 1. Darren Miller; 2. Jeff Miller; 3. Tyler Reeser; 4. Cale Reigle; 5. Ken Duke Jr.; 6. Drew Ritchey; 7. Dave Guss Jr.; 8. John Walp; 9. Kassidy Kreitz; 10. Kyle Ganoe; 11. Erin Stat­ler; 12. Tom Worrick; 13. Scott Ellerman; 14. Zach Newlin; 15. Ron Aurand; 16. Reed Thomp­son; 17. Tyler Denochik; 18. Mike Alleman; 19. Stephanie Dodson; 20. Jay Krout; 21. Coltt Lepley; 22. Nathan Gramley; 23. Dave Grube; 24. Brian Sweitzrer.