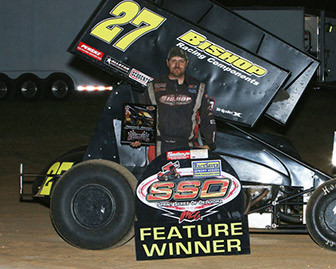 By David Smith Jr.
ADA, Okla. (June 24) – Defending champion Andy Shouse took the lead on lap two and never looked back in capturing his third victory of the season when the Sprint Series of Oklahoma vis­ited Oklahoma Sports Park on Saturday night.
Chad Koch and Chris Kelly started on the front row for the 20-lap IMCA RaceSaver Sprint Car feature and it was Koch who quickly jumped into the lead. The fourth starting Shouse quickly moved into the runner-up position and was on the leader's rear bumper entering turns three and four.
Shouse got a run underneath Koch exiting turn four to take the lead on lap two and quickly opened a half-stretch lead.
The leader encountered slower traffic on lap 10 which allowed Koch to cut the deficit in half. With three laps remaining, Shouse followed a slower car for the remaining laps allowing Koch to close to three car lengths. That was as close as he got, however, as Shouse held on to score his fourth career series victory.
Gary Owens came home third while Chip Graham rounded out the top five in the caution-free event presented by Smiley's Racing Products.
Shouse had finished third in the series event the night before at Ardmore.
Feature results – 1. Andy Shouse; 2. Chad Koch; 3. Gary Owens; 4. Chris Kelly; 5. Chip Gra­ham; 6. Joe Wood Jr.; 7. Jake Martens; 8. Marten Edwards; 9. Michael Day; 10. Loyd Clevenger; 11. Tristan Oakes; 12. Blake Scott; 13. Michelle Melton; 14. Donnie Wilson; 15. Steven She­bester; 16. Justin Fisk; 17. Tanner Conn; 18. Ty Williams; 19. Cody Whitworth; 20. Josh Toho.