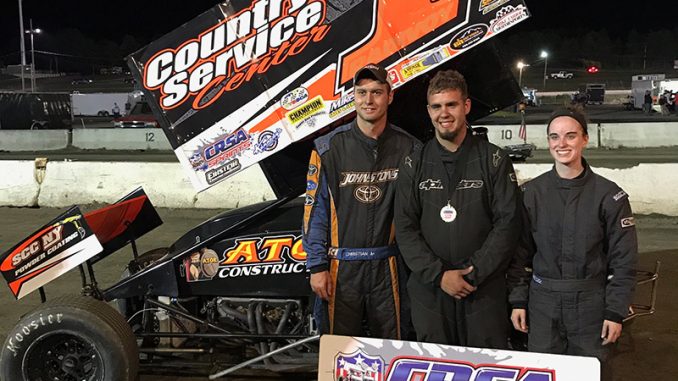 By Edward Kochersberger
MIDDLETOWN, N.Y. (June 24) – A dramatic late-race move gave Thomas Radivoy his second CRSA IMCA RaceSaver Sprint Car win of the season at Orange County Fair Speedway Saturday night.
The main event was shortened from 20 laps to fifteen due the threat of rain in the area and chal­lenger Bret Jaycox knew he had to make things happen quickly because of the race length.
Jaycox used the outside starting lane to work through turn one and two to take the lead away from Radivoy early and dominate a majority of the event.
The move of the race was seen when Radivoy and Jaycox were rolling out of turn four toward the white flag. Jaycox drifted a little high and lost just enough momentum for Radivoy to point his car underneath Jaycox and take command of the race lead during the final lap of the evening.
The win was Radivoy's CRSA third on the season and second at Middletown. Sydney Prince and Christian Rumsey snuck by Jaycox to finish second and third, respectively.
The Super Gen Products/Champion Generators CRSA Sprint Tour heads back north for another doubleheader racing weekend. Friday, June 30 will be the second stop of the season at Afton Motorsports Park for round two of the Algonkin Motel Challenge Series. The tour then heads north and east to the Fonda Speedway on Saturday, July 1. This will mark another round of the Northway 90 Challenge Series.
Feature results – 1. Thomas Radivoy; 2. Sydney Prince; 3. Christian Rumsey; 4. Bret Jaycox; 5. Mark Taylor; 6. Geoff Quackenbush; 7. Billy VanInwegen; 8. Jeff Trombley; 9. Kyle Smith; 10. Tyler Boniface; 11. Scott Flammer; 12. Chuck Alessi; 13. Emily VanInwegen; 14. Tyler Jashembowski; 15. Dana Wagner; 16. Eddie Strada; 17. Dustin Purdy .