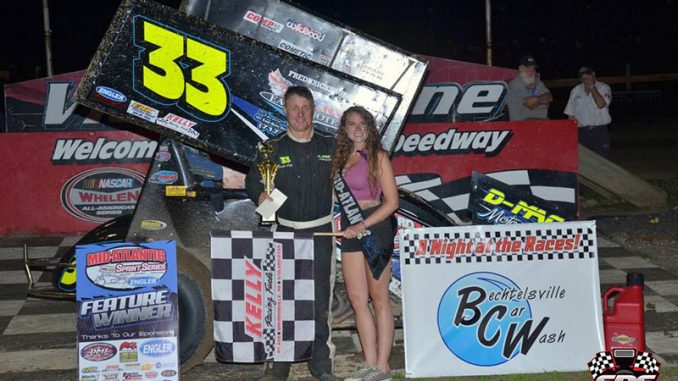 By Erika Palmai Wagner
BECHTELSVILLE, Pa. (June 24) – Scott Lutz earned his trip to victory lane Saturday at Grandview Speedway after being pressured by second-running Tommy Carberry the majority of the 25-lap Mid-Atlantic Sprint Series feature event.
Carberry was rim-riding his way around the 1/3 mile high-banked oval and took over the lead as the field was crossing the start-finish line for the white flag. That lead was short-lived as he came into contact with the outside guardrail going down the back stretch, handing the top spot back to Lutz.
"I really just drove as hard as I could," Lutz said. "When the top started to go away for me, I thought to myself that my only shot was getting around the lap cars and getting them in between us, but that actually almost cost me the race in the final laps there."
"I know he had gotten by me but when we got to the back stretch on that final lap, I dove in front of the lap car and that's how I got back past him before he had made some con­tact with the outside wall," he added.
The last 10 laps were a crowd pleaser, with Lutz and Carberry slicing and dicing through the field, uti­lizing all parts of the track, making it three wide at times between lapped traffic, with similar rac­ing going on with third and fourth placed Mark Bitner and Tim Tanner Jr., as well as fifth and sixth place running Austin Bishop and Dave Brown.
With two laps remaining and the end in sight, Carberry made his move heading into turns three and four around Lutz, who ran up on a lapped car, allowing Carberry to cruise pass them around the high side.
"I got by Lutz on the top going in between a lapped car, coming to one to go, and the top started going away with six or seven laps to go, and I was really close up on the fence and coming out of two he got back underneath the lapped car," Carberry explained. "I think my right rear grabbed a hold of the wall, and it must have slapped the front end, and I went to turn it into three on the top and I drove it in there hard, and It just went straight and stuffed it in the fence."
Lutz was followed across the line by Bitner, Tanner, Bishop and Brown. Carberry officially fin­ished in fifteenth.
On Saturday, July 8, the Engler Machine and Tool Mid-Atlantic Sprint Series will make its way back to the Garden State, racing at Bridgeport Speedway.
Feature results – 1. Scott Lutz; 2. Mark Bitner; 3. Tim Tanner; 4. Austin Bishop; 5. Dave Brown; 6. Jon Haegele; 7. Scott Frack; 8. Eddie Wagner; 9. Brendon Poff; 10. Joe Kay; 11. Jeff Geiges; 12. Bobby Butler; 13. Rick Stief; 14. Keith Anderson; 15. Tommy Carberry; 16. Sam Lieberman; 17. David Bon­ner; 18. Tom Carberry Sr.; 19. Craig Pellegrini Jr.; 20.  Stef Carberry; 21.  Zack Burd; 22. Tyler Reinhardt; 23. Tim Smolenyak; 24. Bobby Scherff.