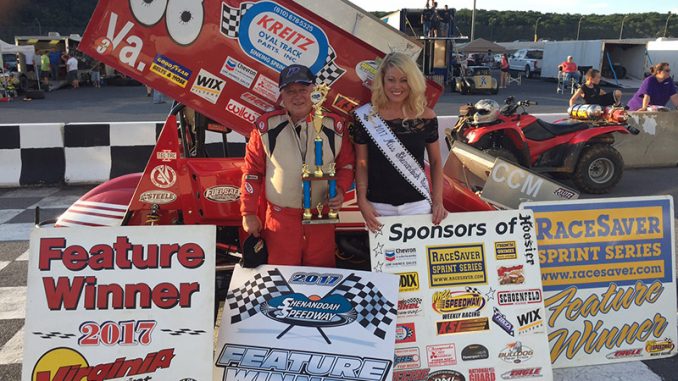 By Jim Haines
SHENANDOAH, Va. (June 24) – 'Bullet' Bill Rice would tell anybody who would listen he didn't know if he could put it all together and win a pavement race.
But after Saturday's Virginia Sprint Series main event at Shenandoah Speedway, Rice could tell about getting the lead early and then holding off all challengers for his first big IMCA RaceSaver win.
Rice and Mike Keeton paced the field to green and they stayed virtually side-by-side for five laps until Rice inched ahead.
The battle was on up front as Rice and Keeton were joined by Ryan Price and Jerald Harris.  The leader made sure he hit his marks and kept the car where it was happy as the cars behind were moving all over to find a way by.
With one to go, Rice was still using his same line as they came to traffic. Keeton tried a low line pass around the traffic but it cost him momentum. Price got by on the outside and went after Rice in turn three but couldn't put the power down soon enough and Rice flashed under the checkered flag first.
Next it's off to Langley Speedway in Hampton, Va. for the first visit to the Tidewater area paved oval on Saturday, July 1.
Feature results – 1. Bill Rice; 2. Ryan Price; 3. Mike Keeton; 4. Jerald Harris; 5. Anthony Linkenhoker; 6. Tony Harris; 7. Josh Perreault; 8. Chris Ware; 9. Charlie Ware; 10. Ron Moyers; 11. Neil Sandridge.