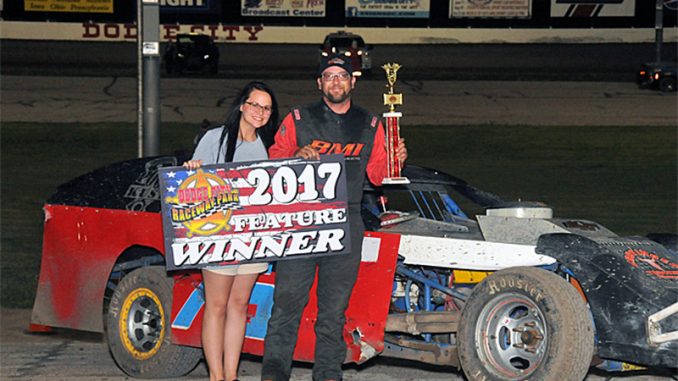 By Lonnie Wheatley
DODGE CITY, Kan. (June 16) – Randle McRoberts was first to the checkers in Friday's IMCA Modified main event at Dodge City Raceway Park.
McRoberts slipped by Travis Simmons on the 12th circuit and paced the field the rest of the way.
Simmons and McRoberts had started alongside each other on the front row of the main event with Simmons getting the upper hand in the early going.  McRoberts chased Simmons for 11 laps before finally pouncing on the lead.
Joel Lane followed McRoberts' lead around Simmons and held second until the final round when Cole Traugott worked his way into the runner-up position after starting 12th. Lane claimed the show position with the father-son duo of Troy and Brendon Gemmill rounding out the top five.
Troy Gemmill's charge to fourth came from the 20th starting position.