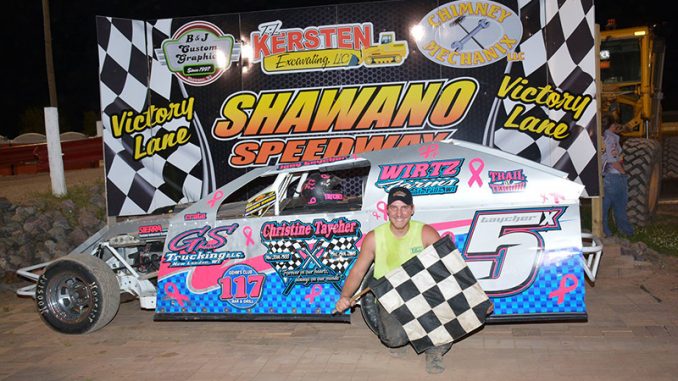 By Scott Owen
SHAWANO, Wis. (June 10) — One night removed from a full moon, the Shawano Speedway al­most had it all … a nasty wreck, a first-time winner, sweet redemption following a nasty wreck and drivers coming from deep in the field.
Joey Taycher got soaked in victory lane after his first career IMCA Modified victory. Travis Van Straten won his fourth local IMCA Sunoco Stock Car feature of the season and Jason Ebert won his first Karl Chevrolet Northern SportMod feature of the season.
The IMCA Modified feature got off to a scary start as more than half the field was involved in a wreck at the end of the back straight away. Lance Arneson rolled multiple times before his car came to rest on its side. All drivers were okay though numerous cars were eliminated from action.
Once the race got going again, Taycher and Matt McDermid raced side-by-side for the top spot before Taycher pulled ahead. Taycher led the rest of the race for his first career win in the divi­sion. McDermid held on to finish a strong second in only his third night back after a seven-year hiatus. Seventy-six-year young Jerry Muenster continues to amaze after a third place finish.
Luke Uttecht led early in the IMCA Stock Car feature as Van Straten quickly raced to se­cond. Van Straten and Justin Jacobsen passed Uttecht to begin a battle for the lead. As the laps clicked away, Jacobsen made numerous attempts to find a way around Van Straten. Jacobsen tried the high line right on the wall and the low line right on the barrels, but to no avail. Van Straten held on to win the race, his fourth in a row. Dan Michonski came from 15th to finish third.
The Northern SportMod feature was led early by Tyler Thiex but Ebert quickly moved to the front. Ebert led the rest of the way fending off a late charge by Lucas Lamberies for the win. For Ebert, it was sweet redemption after a nasty wreck a few weeks back. Lamberies, fresh off a big win in Davenport, Iowa the previous night, came from 18th to finish second. Jordan Barkholtz took third.