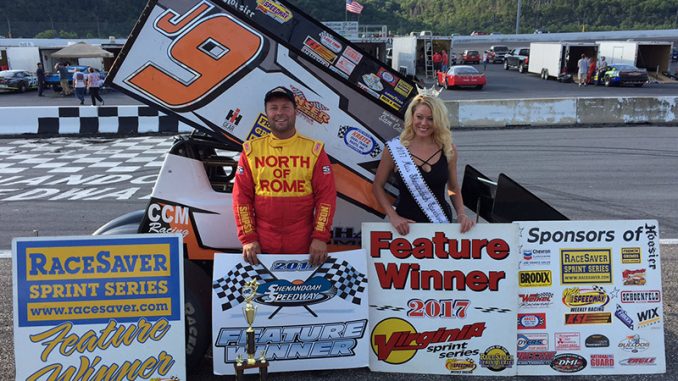 By Jim Haines
SHENANDOAH, Va. (June 3) – There was no catching Jerald Harris once he moved to the front of Saturday's Virginia Sprint Series feature field at Shenandoah Speedway.
The IMCA RaceSaver Sprint Car win was his second this season at the paved speedway and came in front of Mike Leraas and Ryan Price.
Mike Keeton took over the lead on lap three; Harris got by Bill Rice and began to close on the leader, finally finding his way to the front on lap 10.
Leraas got to second after a restart. The top three were close as the laps clicked off and as the white flag waved, Leraas made a last corner charge but came up short by a car length.
Feature results – 1. Jerald Harris; 2. Mike Leraas; 3. Ryan Price; 4. Mike Keeton; 5. Bill Rice; 6. Anthony Linkenhoker; 7. Tony Harris; 8. Chris Ware; 9. Bronzie Lawson.