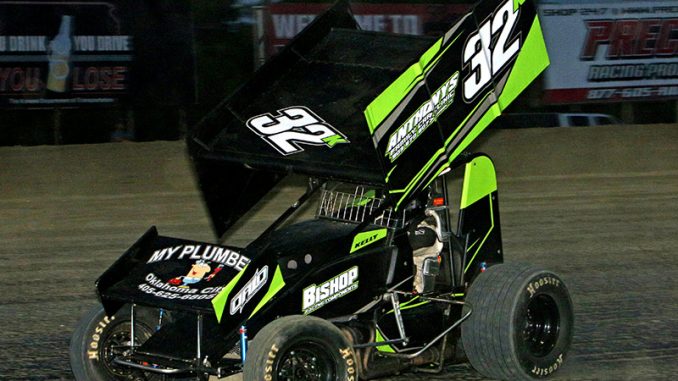 By David Smith Jr.
PARK CITY, Kan. (May 28) – Todd Schwartz wasted little time getting to the lead Sunday night at 81 Speedway, then held off Joe Wood Jr. on the final lap to capture his first career Sprint Series of Oklahoma victory and $1,000 during the Sprint Car Maynia show at Park City.
The IMCA RaceSaver Sprint Car event, co-sanctioned by the United Rebel Sprint Series, saw Jake Martens, Steven Richardson and Ty Williams complete the top five. Thirty-four cars vied for starting spots on the main event grid.
Schwartz started third and took the lead as the green flag fell. Wood was five car lengths behind in second midway through the 20-lapper.
Andy Shouse and Brandon Long, who were running third and fourth respectively, made contact coming out of turn two on 13, causing Long to execute a series of flips down the backstretch. He was shaken but otherwise uninjured.
Schwartz entered slower traffic with three laps to go, then denied Wood's final attempt at a pass in turns three and four on the last lap.
Next up for the Sprint Series of Oklahoma will be a weekend doubleheader, on Friday, June 23 at Southern Oklahoma Speedway in Ardmore and Saturday, June 24 at Oklahoma Sports Park in Ada.
Feature results – 1. Todd Schwartz; 2. Joe Wood Jr.; 3. Jake Martens; 4. Steven Richardson; 5. Ty Williams; 6. J.D. Johnson; 7. Zach Blurton; 8. Brandon Anderson; 9. Darren Berry; 10. John Webster; 11. Jed Werner; 12. Loyd Clevenger; 13. Chad Koch; 14. Dillon Laden; 15. Keef Hemel; 16. Nate Berry; 17. Eric Mathews; 18. Brian Herbert; 19. Brandon Long; 20. Andy Shouse.