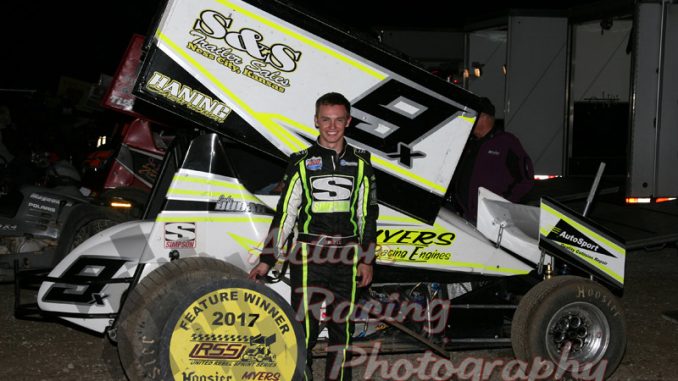 HAYS, Kan. (May 27) – The United Rebel Sprint finally got the monkey off of its back Saturday night before a packed house at RPM Speedway. Fans were treated to an epic battle as Jake Bu­bak battled young guns Jed Werner and Tracey Hill to take the IMCA RaceSaver Sprint Car win.
Outside pole starter Tracey Hill was the early leader before a lap two red flag. Jed Werner grabbed the runner-up spot on the ensuing restart while Bubak advanced to third.
Bubak took over second on lap nine, then used traffic to his advantage in taking over the lead on lap 17.
Bubak cruised to the victory following a lap 21 caution. Werner, Hill, J.D. Johnson and Steven Richardson rounded out the top five.
Feature results – 1. Jake Bubak; 2. Jed Werner; 3. Tracey Hill; 4. J.D. Johnson; 5. Steven Richard­son; 6. Tyler Knight; 7. Darren Berry; 8. Zach Blurton; 9. Brian Herbert; 10. Cody Lampe; 11. Craig Jecha; 12. Keefe Hemel; 13. Koby Walters; 14. Scott Rhoades; 15. Shane Sundquist; 16. Ty Williams; 17. Aaron Ploussard; 18. Brandy Jones; 19. Brandon Long; 20. Jake Martens.