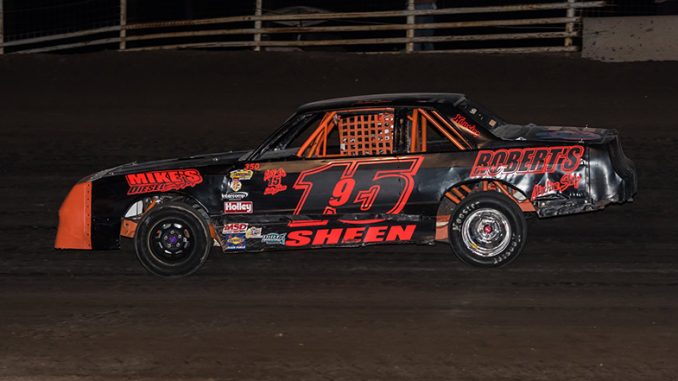 EUNICE, N.M. (May 27-28) – Michael Sheen had to give serious thought to describing his racing weekend at Cardinal Speedway.
The winner of the IMCA Sunoco Stock Car feature at Cardinal's eighth annual Kelly Sheen Memorial, held in honor of his father, eventually got around to using the words "awesome" – twice – and "amazing."
"I couldn't have asked for a better weekend. We ended up getting lucky and pulled it off," said Sheen, who won the Saturday qualifier to earn the Sunday pole start and then led all 25 laps of the main event. "There were a whole bunch of guys behind me who could have won this race."
The victory was good for $2,500 and Sheen, like a number of other drivers racing at Eunice over the holiday weekend donated his share of the purse to the scholarship fund established in his father's name.
Also the winner of the 2015 event, Sheen was catching up with the back of the field before a late restart. He led Colby Deming, Cary White, Jody York and Mack Seay across the finish line.
"Winning this race the second time was better," he said. "It was awesome because the whole family came on Sunday and it was a pretty special weekend."
"I've qualified for some big shows and I've won some big shows but winning this race might not sink in for a while," Sheen added. "To be able to win this time was awesome. It was amazing."
Win number 94 of Neal Flowers' IMCA Modified career paid $1,200 and put him on he ballot for the Fast Shafts All-Star Invitational. One thousand dollar feature winners were Gerald Spalding Jr. in the IMCA Sunoco Hobby Stocks and Justin Thomas in the Scoggin-Dickey Parts Center Southern SportMods.
Both Flowers and Spalding were Sheen Memorial winners last year.
Flowers drew the outside pole and chased Caleb Stone the first 10 laps.
"I finally got a good run on the front straight and went around him on the outside," said Flowers, who stayed in front the rest of the way and won ahead of Stone and Dean Deming.
Spalding pulled away from the rest of the Hobby Stock field early. A caution just after midway put Sam Hodges and John Davis on his back bumper and they stayed close to the checkers.
"It was incredible. I was born and raised in Eunice and consider this my home track," said Spalding, who now lives in Abilene, Texas. "To win this race is exciting, especially when Michael Sheen wins it, too."
"I would rather win this race that any of the other big races I've won," he continued. "It is by far the crown jewel of races I want to win."
A regular at previous Sheen Memorials in Stock Car or Hobby Stock divisions, Thomas sped to his career first Southern SportMod feature win in just his second start in the class.
He started outside row one, fell back to third on the initial start, then shot into the lead to stay following an early caution. Bobby Beatty ended in second and Tyler Cook was third.
"We were building a new motor and didn't race for about two months," Thomas said. "We had a good run in qualifying, then missed hot laps on Sunday so we didn't change our setup from Saturday. It all ended up working out so it was a good weekend."
Feature Results
Stock Cars – 1. Michael Sheen; 2. Colby Deming; 3. Cary White; 4. Jody York; 5. Mack Seay; 6. Mark Lord; 7. Colin Deming; 8. Cory Stone; 9. Jake White; 10. Jordan Lathram; 11. Carbie McClearen; 12. Jack Miles; 13. Eddie Ledbetter; 14. Jamey Huskey; 15. Cory Davis; 16. Brandon Williams; 17. Cody Kays; 18. Walter Freeman; 19. Brian Ray Flowers; 20. Jason Adcock; 21 Jay McClearen; 22. Hunter Russell.
Modifieds – 1. Neal Flowers; 2. Caleb Stone; 3. Dean Deming; 4. Toby Herring; 5. Jamie Newton; 6. Jerry Harpole Jr.; 7. Will Poston; 8. Roy Don Mason; 9. Zac Mason; 10. Gary Puckett; 11. Bob Sikes; 12. Butch Reid; 13. Cory Davis; 14. James Boutelle; 15. Pete Seidl; 16. Don Lang; 17. Mark Patterson.
Hobby Stocks – 1. Gerald Spalding Jr.; 2. Sam Hodges; 3. John Davis; 4. Cody Stone; 5. Jimmy Breeding III; 6. Wesley Mayer; 7. Shawn Miles; 8. Gerald Spalding Sr. 9. Ricky Yeley; 10. Lee Yeley; 11. Patrick Hill; 12. Ashton Hayes; 13. Don Jones; 14. Ryan Wilkerson; 15. Aaron Childress; 16. Wayne Chadwell.
Southern SportMods – 1. Justin Thomas; 2. Bobby Beatty; 3. Tyler Cook; 4. Dustin Robinson; 5. Cory Williams; 6. Frank Groves; 7. Brian Heard; 8. Junior Dosher; 9. Heath Herrington; 10. Trevor Lutz; 11. Tim Welch; 12. Rodger Pierce; 13. Dave Swafford; 14. Ryan Thomas; 15. Alec Smith; 16. Michael Maraschick.