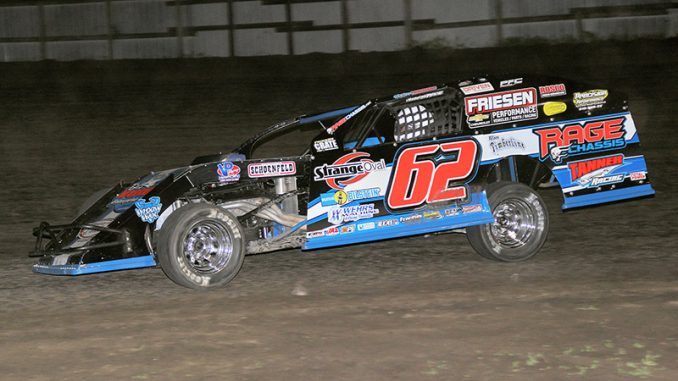 VINTON, Iowa (May 28) – Hunter Marriott was the best in a field of 48 IMCA Modifieds Sunday night at Benton County Speedway.
The weekly program served as a prelude to Monday's season opener for the Arnold Motor Supply Hawkeye Dirt Tour in Vinton.
After redrawing the number two pill, Marriott quickly pulled away from Scott Hogan at the start of the 30-lapper. A pair of mid-race cautions didn't slow the leader as Marriott built a larger advantage following each stoppage.
In the end, Marriott took the checkers over a straightaway ahead of Richie Gustin and Jimmy Gustin. Both Gustins and J.D. Auringer worked the low side past Scott Hogan late to complete the top four.
Marriott, already on the ballot for the Fast Shafts All-Star Invitational, earned $2,000 for his win.
Marshalltown Speedway Frostbuster winner Ethan Braaksma earned his second career win in the Karl Chevrolet Northern SportMod division. He came out on top of a stout field of 40 Northern SportMods to take the victory.
Braaksma held off late pressure from Tony Olson and Jared Van Deest to score the victory.
Nathan Wood and Scooter Dulin ran nose-to-tail for much of the 18-lap IMCA Sunoco Stock Car headliner. That all changed when Dulin worked the low side of race-long leader Wood exiting turn four on the final lap.
After the dust settled following contact between the two, Dulin emerged with the win. Wood and John Oliver completed the top three.
Brett Vanous earned his second IMCA Sunoco Hobby Stock win of the season. Vanous took the checkers ahead of Matt Brown and Daniel Wauters.
Racing action continues Monday when the Arnold Motor Supply Hawkeye Dirt Tour kicks off its 2017 campaign on the quarter-mile.
Feature Results 
Modified – 1. Hunter Marriott; 2. Richie Gustin; 3. Jimmy Gustin; 4. J.D. Auringer; 5. Scott Hogan; 6. Todd Shute; 7. Tyler Droste; 8. John Emerson; 9. Kyle Brown; 10. Cayden Carter; 11. Joel Rust; 12. Clay Money; 13. Brennen Chipp; 14. Ryan Maitland; 15. Steve Stewart; 16. Brandon Maitland; 17. Jerry Dedrick; 18. Jacob Murray; 19. Eric Elliott; 20. Dakota Hayden; 21. David Brown; 22. Troy Cordes; 23. Ed Thomas; 24. Jason Snyder; 25. Jeff Aikey; DQ Corey Dripps.
Stock Car – 1. Scooter Dulin; 2. Nathan Wood; 3. John Oliver; 4. Justin Stander; 5. Damon Murty; 6. Jarod Weepie; 7. Shane Ebaugh; 8. Jordan Gerling; 9. Norman Chesmore; 10. Curtis Roster; 11. Shane Paris; 12. Bob Ahrendsen; 13. Paul Shepherd; 14. Matt Brown; 15. Brandon Jacoby; 16. Greg Gill.
Hobby Stock – 1. Brett Vanous; 2. Matt Brown; 3. Daniel Wauters; 4. Matt Pohlman; 5. Justin Wacha; 6. Nathan Ballard; 7. Joe Docekal; 8. Jeremiah Wilson; 9. Tyler Ollendieck; 10. Jim Ball; 11. Jacob Floyd; 12. Gary Ollendieck; 13. Derrick Thran; 14. Trenton Newhaus; 15. Kyle Dulin; 16. Justin Ginther.
Northern SportMod – 1. Ethan Braaksma; 2. Tony Olson; 3. Jared Van Deest; 4. Matt Short; 5. Danny Dvorak; 6. Kurt Hogan; 7. Dakoda Sellers; 8. Joey Schaefer; 9. Justin Becker; 10. Tom Rawlins; 11. Mike McDonald; 12. Lee Rouse; 13. Kyle Olson; 14. Tom Lathrop; 15. Ryan King; 16. Brandon Tharp; 17. Randy Lamar; 18. Brian Kauffman; 19. Brian Sondag; 20. Scott Meyers; 21. Jerry Miles; 22. Tyler Soppe; 23. Ben Chapman; 24. Mike McNeal; 25. Lucas Lundry; 26. Curt Hilmer.