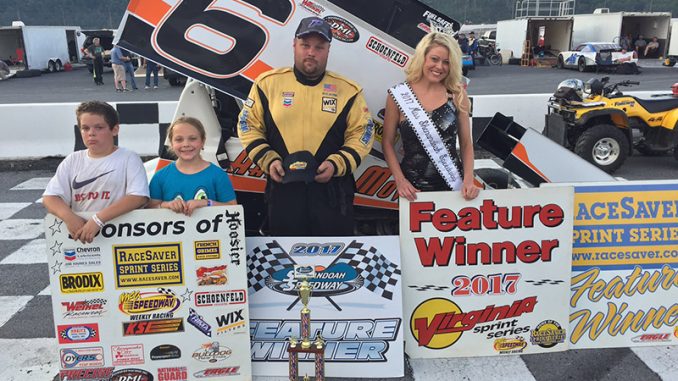 By Jim Haines
SHENANDOAH, Va. (May 27) – Tony Harris raced his way back to victory lane at Shenandoah Speedway Saturday night, when the Virginia Sprint Series returned for a Memorial Weekend show.
Bill Rice and Harris paced the field to green and Rice ways out first and staying low but Harris got a run and on lap three was scored first with Anthony Linkenhoker following into second.
Rice's brakes began to fade and Jerald Harris went by for third. Linkenhoker kept going low to work on the leader lap after lap but could only stay on his bumper and fell just short.
Tony Harris also won at Shenandoah on April 29. The IMCA RaceSaver Sprint Car Series is at the same venue for a June 3 show.
Feature results – 1. Tony Harris; 2. Anthony Linkenhoker; 3. Jerald Harris; 4. Mike Leraas; 5. Bill Rice; 6. Mike Keeton; 7. Josh Perreault; 8. Chris Ware.