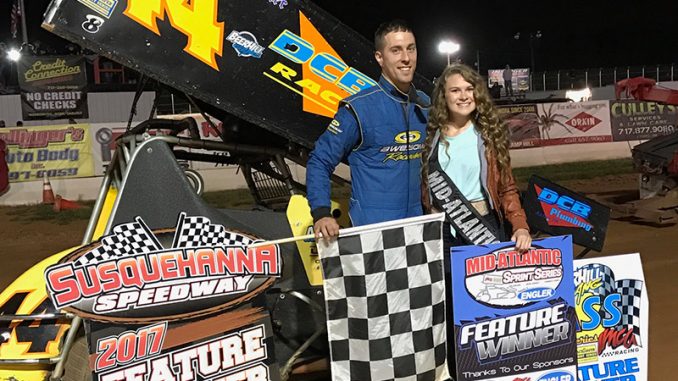 By Erika Palmai Wagner
YORK HAVEN, Pa. (May 20) – Dave Brown took the checkered flag Saturday at Susquehanna Speedway, for the ninth time in his Mid-Atlantic Sprint Series career.
Tyler Reeser, Cale Reigle, Darren Miller and Kyle Ganoe completed the top five in the first IMCA RaceSaver Sprint Car event co-sanctioned this season by MASS and the Pennsylvania Sprint Series.
Reigle took control from the start and led the first 11 of 20 circuits. Brown started fourth and ad­vanced quickly, using the very top of the race track.
By halfway, Reigle caught up to lapped traffic, with Brown lurking closely behind.  Brown stayed in the ultra-high groove to take the lead away the next time around. Reeser also made the most of the top line and took over second on the last lap.
"With most of the field leaving the top side open, it was less patience and more of a hammer-down mindset that I was thinking when getting around the slower cars," Brown said.  "I just knew the top was the fast way around and I wasn't going to move down to try and pass any lapped cars, just in case there was someone close behind."
Brown was one of 16 MASS regulars who made the haul to the Central Pennsylvania speedway. Entries totaled 34.
On Sunday, May 28, the Engler Machine and Tool-sponsored Mid-Atlantic Sprint Series will make the first of four appearances at Grandview Speedway.
Feature results – 1. Dave Brown; 2. Tyler Reeser; 3. Cale Reigle; 4. Darren Miller. 5. Kyle Ganoe; 6. Colby Dice; 7. Austin Bishop; 8. Kyle Craker; 9. Stefanie Carberry; 10. Ken Duke Jr.; 11. Scott Ellerman; 12. Dave Grube; 13. Billy Ney; 14. Tommy Carberry; 15. Rick Stief; 16. Jeff Geiges; 17. Tim Tanner Jr.; 18. Brendon Poff; 19. Scott Frack; 20; Nick Sweigart; 21. Stephanie Dodson; 22. Jay Krout; 23. Cody Hackenberry; 24. Alex Potosky.