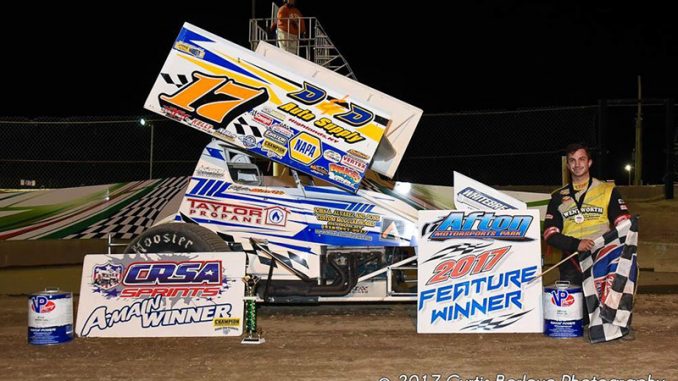 By Ed Kochersberger
AFTON, N.Y. (May 12) – Defending champion Kyle Smith beat the rest of the IMCA RaceSaver Sprint Car field to the checkers and the CRSA event at Afton Motorsports Park beat undesirable weather that was closing in on the Northeast Friday night.
The racing math teacher Dustin Purdy, brought his no. 83 to the green flag to begin the 25-lap main event, alongside future engineering student Tyler Jashembowski.
Purdy set the pace early. Eddie Strada pulled alongside and actually took the lead before his ride lost power as he was crossing under the flag stand at lap six.
Purdy's next challenger was Smith, who worked his way from fifth starting and passed for the lead before halfway.
With a few late race yellows to work through, Smith took solid command and went on to secure the victory on a very emotional evening for himself and car owner John Matrafailo.
"Johnny's father passed away earlier this week. He was definitely with us tonight. This win is for him," Smith said.
Josh Pieniazek also worked his way from the eighth starting spot to finish second.
Twenty-four RaceSaver Sprint Cars filled the pits for race three of the CRSA Sprint Tour pre­sented by Super Gen Products with Champion Power Equipment. This was also round one of the four-race Algonkin Motel Challenge.
CRSA Sprints head to Penn Can Speedway, in Susquehanna, Pa., on Friday May 19. They will then head back north to compete in their first and only stop of 2017 at Thunder Mountain Speed­way in Center Lisle on Saturday, May 20.
Feature results – 1. Kyle Smith; 2. Josh Pieniazek; 3. Brett Jaycox; 4. Billy VanInwegen; 5. Dustin Purdy; 6. Tyler Jashembowski; 7. Sydney Prince; 8. Dalton Herrick; 9. Emily VanInwegen; 10. Christian Rumsey; 11. Jerry Sehn; 12. Dana Wagner; 13. Geoff Quackenbush; 14. Andy Durie; 15. Tyler Cartier; 16. Link Pettit; 17. Eddie Strada; 18. Michael Storms; 19. Thomas Radi­voy; 20. Mike Kiser; 21. Jeff Trombley; 22. Chuck Alessi; 23. Peter Dance; 24. Tyler Boniface.