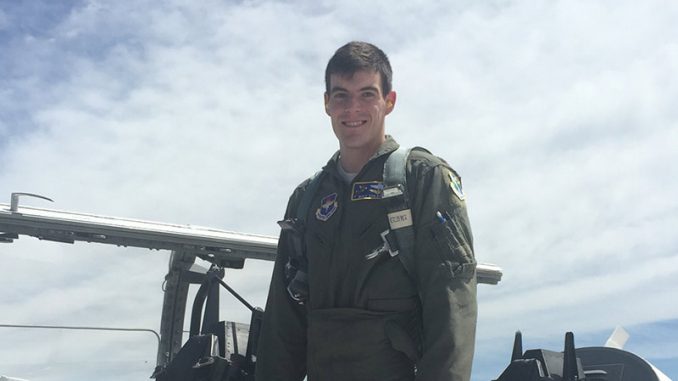 SHERRARD, Ill. – Dalon Helm brings a unique perspective on speed to the IMCA Modified division.
Second Lieutenant Helm, a Sherrard, Ill., native and graduate of the United States Air Force Academy is stationed at Laughlin Air Force Base in Del Rio, Texas.
Now in the Specialized Undergraduate Pilot Training program, he's flying a T-6A Texan turbo-prop with a top speed of around 360 miles an hour.
He'll be home over the Memorial Day Weekend and hopes to race with his father Dan at Davenport Speedway and Quad City Speedway, two of the tracks he competed at during his 2016 rookie season.
"I had 10 flights in a small plane before I raced a Modified," said Helm. "I'm going a lot faster now in a T-6 but it's hard to tell the difference because of the perspective. Having tires on the ground feels faster than when you're in an airplane 15,000 feet off the ground."
Helm will next train in a T38 Talon, a course that leads to becoming a fighter or bomber pilot, or a T-1 Jayhawk, which leads to flying an airlift or tanker plane.
The Talon tops out at around 860 miles an hour, the Jayhawk 530 mph. Regardless of where his Air Force career course takes him, Helm wants to keep going fast on dirt.
"It's a long way to anywhere from where I'm stationed but I've been able to make the three hour trip to Abilene to watch the races a couple times," he said. "I'm definitely looking at where bases are located and where the tracks are located. Racing is definitely something I want to continue. Once you start you get hooked."
Admittedly late to the sport, Helm decided last summer would be the perfect time to start. And with the number of sanctioned tracks so close to home, the IMCA Modified would be the perfect division to start in.
"My dad and grandpa Bob had both raced around the Midwest and racing was something I had wanted to do when I was a kid," he said. "I was at the academy one night thinking about what I wanted to do in the 60 days I had after graduation before reporting to my next duty station. I decided I wanted to race."
After talking that idea over with his father, Helm went online and found a 2014 Forward Chassis. His grandfather had parts stored away in the garage that he could use and Helm was ready to start his own racing career.
In less than a month and a half, Helm logged 17 starts at Davenport, Maquoketa Speedway, Quad City and 34 Raceway.
His best showing came on his 15th night out, with a sixth place finish at East Moline.
"My dad will have the car ready when I get back at the end of the month," Helm said. "We had a blast racing last summer. It was the most fun thing I've ever done and I learned a lot."