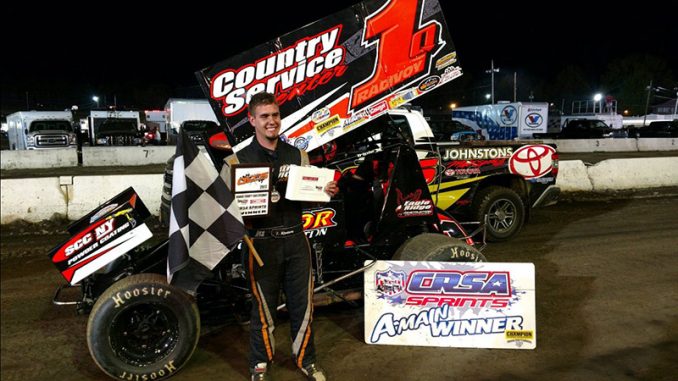 By Nicholas Fultz
MIDDLETOWN, N.Y. (April 29) – The Super Gen Products and Champion Power Equipment-sponsored CRSA Sprint Tour made its first of five stops on the schedule at Orange County Fair Speedway on Saturday, which was also the first of five races on the Hard Clay Challenge Series.
Thomas Radivoy, a native of Circleville, took his no. 1Q IMCA RaceSaver Sprint Car to victory lane leading all 20 laps of the green to checkered flag main event.
Radivoy made the redraw through a third-place finish in his heat race and pulled the outside pole. Emily VanInwegen earned the runner-up spot after she came away from the redraw with the pole.
She was able to hold off Eddie Strada, who came away with third. Christian Rumsey and Tyler Jashembowski rounded out the top five.
The CRSA tour will return to action on Friday, May 12 with the first of four stops at Afton Motorsports Park, which will also be the first points show in the Algonkin Motel Challenge. The tour will then head east again on Saturday, May 13 to return to the hard clay for its second scheduled stop at Orange Country Fair Speedway.
Feature results – 1. Thomas Radivoy; 2. Emily VanInwegen; 3. Eddie Strada; 4. Christian Rumse; 5. Tyler Jashembowski; 6. Brett Jaycox; 7. Kyle Smith; 8. Dustin Purdy; 9. Jeff Trombley; 10. Scott Flammer; 11. Sydney Price; 12. Dana Wagner; 13. Tyler Boniface; 14. Dave Werber; 15. Rick Stone; 16. Geoff Quackenbush; 17. Jerry Shen; 18. Chuck Alessi; 19. Peter Dance.