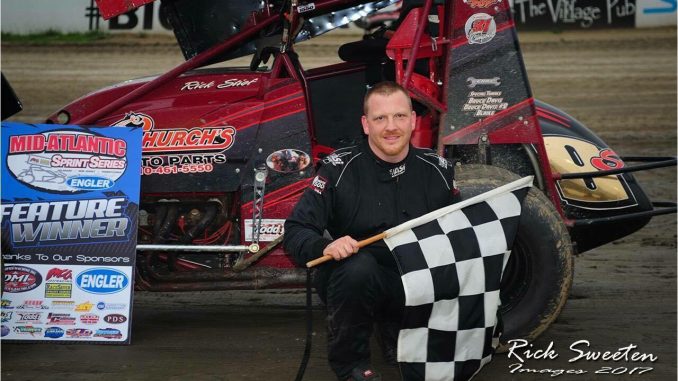 By Erika Palmai-Wagner
BRIDGEPORT, N.J. (April 30) – Rick Stief scored his second career Racesaver 305 Sprint Car victory in the first-ever Mid-Atlantic Sprint Series event Sunday at Bridgeport Speedway.
Stief started fourth and took the lead on lap 14 after early race leader Ryan Stillwaggon's engine expired while maintaining over a straightaway gap on Stief and the rest of the field.
Stief then won the 20-lap feature event over Tim Tanner, Tommy Carberry, Mark Bitner and Dave Brown Jr. Nineteen IMCA RaceSaver Sprint Cars signed in at the back gate for their first event as a newly-sanctioned series.
"I honestly had no idea that I was leading the race until I took the checkered flag and looked over at the scoreboard," Stief admitted post-race. "I knew I was catching Ryan, but I was pretty fo­cused on maneuvering the lapped traffic I had in front of me, so I had no idea.  But I'm glad that I was finally able to win one this way, instead of losing one this way."
Stillwaggon gained the lead after a first-lap duel with Tanner. He reached heavy lapped traffic by midway and maintained a blistering pace before his engine gave out.
Inheriting the front running position unknowingly due to no caution being brought out, Stief contin­ued to master lapped traffic for six more circuits while holding almost more than a half a track dis­tance over Tanner.
"I'm going to be racing with both the Pennsylvania Sprint Series as well as with the Mid-Atlantic Sprint Series when my schedule allows but I just enjoy being able to travel around to different tracks and racing with these great group of people," Stief said. "The new management of the Mid-Atlantic Sprint Series is a passionate group of people who enjoy our sport and I think I can speak for most people when I say that their efforts are appreciated and I look forward to what this sea­son has to bring."
Next up on the Engler Machine & Tool-sponsored Mid-Atlantic Sprint Series schedule is a co-sanc­tioned points event with the Pennsylvania Sprint Series at Susquehanna Speedway Park on May 20.
Feature results – 1. Rick Stief; 2. Tim Tanner; 3. Tommy Carberry; 4. Mark Bitner; 5. Dave Brown Jr.; 6. Joe Kay; 7. Stef Carberry; 8. Eddie Wagner; 9. Jamie Kostic; 10. Jeff Geiges; 11. Bryant Davis; 12. Bobby Scherff; 13. Keith Anderson; 14. Doug Snow; 15. Craig Pellegrini; 16. Harris Kohen; 17. Gabe Fox; 18. Ryan Stillwaggon; 19. Sam Lieberman.