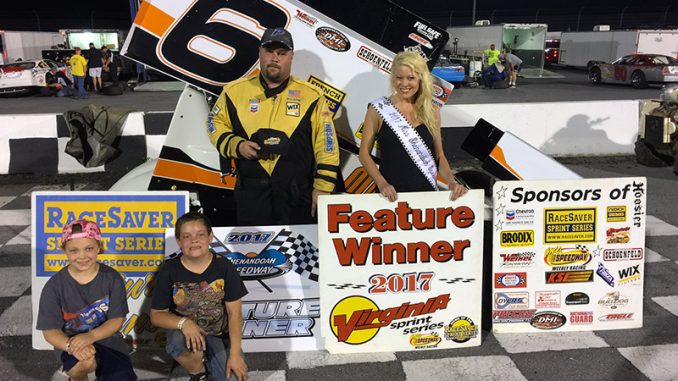 By Jim Haines
SHENANDOAH, Va. (April 29) – Tony Harris used the high line to save his tires and become the third different winner in as many Virginia Sprint Series events this season Saturday at Shenan­doah Speedway.
Bill Rice and Tony Harris paced the IMCA RaceSaver Sprint Car field to the feature green flag and it was on with Rice out first.
Harris quickly moved to the top and by the finish of lap one he was leading. Anthony Linkenhoker and Jerald Harris quickly made it to Tony's rear bumper and they went at it all race with Tony us­ing the high line to keep up speed.
Jerald Harris made it by for second but all he could do was shadow Tony all the way to the finish.
Next up for the Virginia Sprint Series is the Saturday, May 6 visit to Natural Bridge Speedway.
Feature results – 1. Tony Harris; 2. Jerald Harris; 3. Anthony Linkenhoker; 4. Bill Rice; 5. Glenn Worrell; 6. Chris Ware; 7. Josh Perreault; 8. Bronzie Lawson.