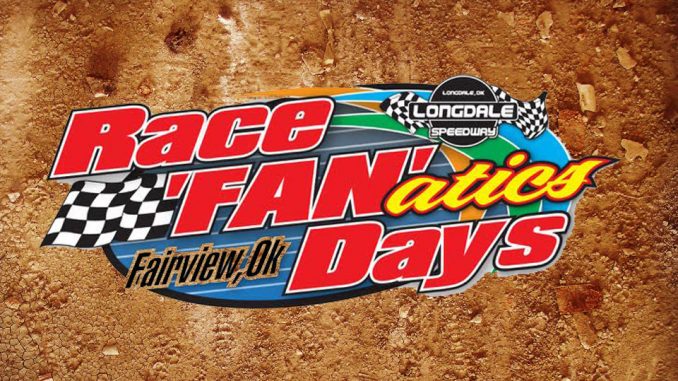 By Shawn Miller
LONGDALE, Okla. – Longdale Speedway is proud to announce a joint venture with the nearby town of Fairview for the Race FANatics Days event on June 17.
Fairview, Okla., which is located approximately 13 miles from Longdale Speedway, will host the unique event featuring live music, a race car show, race car parade and more from 11 a.m. until it gets dark at Main Street and Broadway Street.
"We are extremely pleased to be a part of the Race FANatics Days event, which will hopefully introduce racing and some of the drivers to the community," Longdale Speedway General Manager Greg Burgess said. "There will be a lot of activities for families to enjoy and our goal is to mix the community with racing in an atmosphere different from the race track."
In addition to the music, car show and parade, race teams will be selling merchandise and will be introduced to the crowd. There will be food trucks on hand as well as games for children and bicycle races. Businesses can participate in a window decorating contest as well.
"Come enjoy what Fairview has to offer on Race FANatics Days on June 17 as our many patrons and businesses look forward to hosting fans and drivers of all ages," Fairview City Manager Paul Southwick said. "The City of Fairview is fortunate to have the opportunity to share in the hosting of Race FANatics Days with Longdale Speedway in downtown Fairview. It's sure to be a great event for fans of all ages."