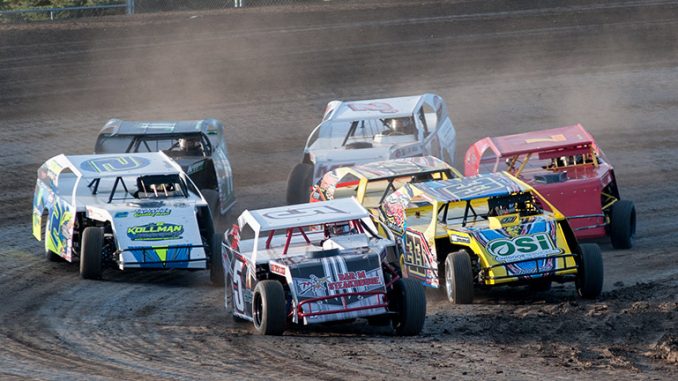 MANDAN, N.D. – Dacotah Speedway will celebrate its 28th season of racing starting Friday, May 5. The racing season is anticipated to be bigger and better as officials and volunteers have been working hard during the off-season to find ways to enhance the show in the best interest of the fans.
Labeled the "Fastest Friday Night in Bismarck-Mandan," races will start Friday nights at 7 p.m. with plans to wave the checkered flag around 10 p.m.
"We know our fans work hard during the week and their time is valuable. So during the off-season, a small group of volunteers met regularly to find ways to speed up the show. We think we have a solution that will allow fans to enjoy the most of their Friday nights," said Dacotah Speedway pro­moter Beau Simmons. "By speeding up the show, it lets families and out-of-town fans have a fun night at the races and get home at reasonable time."
Opening night will feature the regular Mandan Dirt Series classes, including IMCA Modifieds and Mach-1 Sport Compacts.
The season will be action packed as racing is scheduled for most Friday nights from May until the end of the August. The first ever Dacotah Super Show is scheduled for June 9.
"We are really excited for the Dacotah Super Show. It will be something special for the new race fan and something different for our hardcore race fan throughout Western North Dakota," said Simmons.
Dacotah Speedway will again host Championship Night of the 28th annual Kupper Chevrolet Da­kota Classic Tour for IMCA Modifieds and IMCA Sunoco Stock Cars on Thursday, July 13 and the Leg­endary 50, a 50-lap, $10,002 to win IMCA Modified special the following night.
The North Dakota Governors Cup is slated for July 28-29. 

The ninth annual Drive to Survive is Friday, Aug. 18. Fans can purchase special Drive to Survive T-shirts and hats that will get them into the races for free that night. Proceeds go to the Bismarck Cancer Center.
The season will wrap up on Aug. 25 as drivers conclude their battle for track championships.
Dacotah Speedway is a 3/8 mile clay-dirt track and averages over 115 cars a night from all over the Midwest and Canada. For the complete racing schedule, go to www.dacotahspeedway.net.