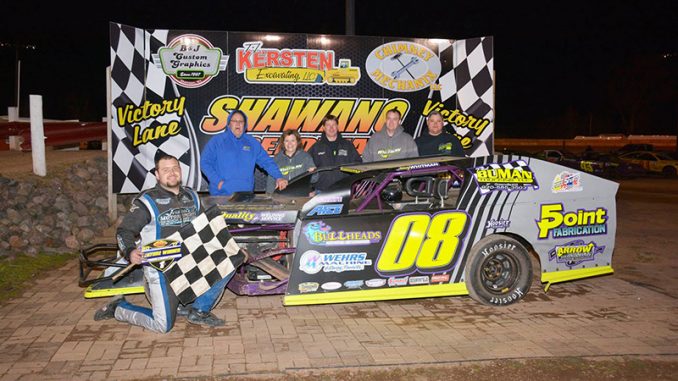 By Scott Owen
SHAWANO, Wis. (April 22) – An impressive 159 cars ventured to the Shawano Speedway Saturday to take part in the opening night of the 2017 racing season and Johnny Whitman, Lucas Lamberies and Travis VanStraten each made late race passes for IMCA victories.
Eddie Muenster led early on in the IMCA Modified feature before giving way to Josh Lambert.  With Lam­bert leading, Whitman moved to second on the field after starting in eighth. Lambert and Whitman then began to dance for the lead, Lambert working the high line, Whitman running down low.
The pair ran side by side for multiple laps with Whitman finally gaining the advantage on lap 18.  Whitman held on for the last two laps for the win as Lambert had to settle for second.
The IMCA Sunoco Stock Car feature saw Jeremy Christians grab the lead on lap one as Rod Snellen­berger and J.J. Heinz applied pressure behind him.  As Christians continued to lead, 10th starting VanStraten worked his way through traffic and eventually to second.
As the white flagged waved VanStraten got to the outside of Christians and took the lead.  As the check­ered flag flew it was VanStraten ahead of Christians for the win.
Pole sitter Kevin Bethke took the lead on the opening lap of the Karl Chevrolet Northern SportMod feature while Lamberies quickly raced to second. Bethke did his best to fend off Lamberies, but the Clintonville teenager was too much as Lamberies eventually got to the outside of Bethke and took the lead over.
Lamberies went on to victory lane while Bethke took second.