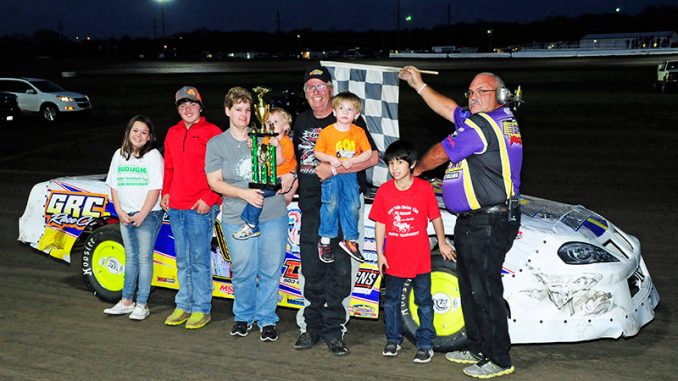 CALERA, Okla. – Ronny Gould has gotten more than feature wins and fame from racing.
He's gotten a family.
Now driving an IMCA Sunoco Stock Car in his home state of Oklahoma, Gould was promoting the for­mer Lake Country Speedway a dozen years ago when he let a group of kids from a local church camp in to the races free one night.
"Everything we do kind of goes back to racing," says Gould. "I was promoting Ardmore when we let those kids in, they sent thank you's and my wife Kelly said we could help some of them, so we became foster parents for the State of Oklahoma."
The Goulds have since fostered more than 70 children and adopted seven of their own, who now range in age from 22 to 3 … sons Scott, Charlie, Ryder, Shay, Olyn and Derek, and daughter Dan­ica.
"The best part has been watching them learn and grow. It's been totally amazing," Gould said. "Scott is stationed in Seoul with the US Army, Charlie will graduate from high school with honors and Ryder is on the honor roll. We call Olyn 'The Big O' and that's why I changed my car number from one to zero."
"We'd been married 17 years and did not have kids of our own before we became foster parents. There's such a need for people to help kids in every state," he continued. "Now we're always go­ing to baseball games, dance practice and school events, and we love it."
The Goulds received a commendation from the governor after 10 years of fostering.
The switch from an IMCA Modified to a SportMod and then the Stock Car resulted in less mainte­nance and allowed more time for family. Gould's brother David, nephew William and a circle of friends that includes Chris Bragg and David Murray Jr. provide no small amount of help.
"You schedule everything but we couldn't do this without that circle of support," Gould explained. "We have a schedule with everything from shower time to bed time posted. The youngest kids are in bed by 9 p.m. and there are nights when Kelly and I are asleep 15 minutes later."
Currently fostering another boy, the Goulds have a five bedroom, two bathroom house that Ronny says could use another three baths. The week's grocery list typically includes eight to 10 gallons of milk and keeping up with laundry is a never-ending battle.
The Goulds bought a used motorhome to get everyone to the track. Otherwise the family rides in two vehicles whenever they travel, prompting more than a few curious looks when they go out to eat and fellow diners didn't see a school bus pull into the parking lot.
"It's weird, but if I hadn't been promoting racing and let those kids in free that night, none of this would have happened," said Gould. "My big accomplishment since we got married was going to Vinton and winning the 20th anniversary Challenge race. Now, watching Charlie graduate, or a three-year-old walk, or my daughter be Valentine's queen at her elementary is really what we enjoy."