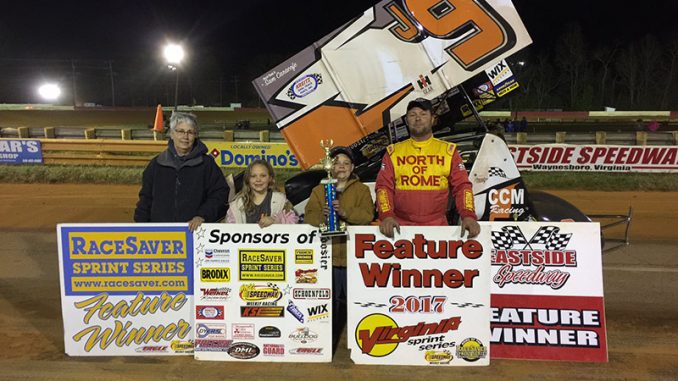 WAYNESBORO, Va. (April 8) – The first Virginia Sprint Series dirt race of the season proved to be a fast one and Jerald Harris proved to be the fastest in the Saturday field at Eastside Speed­way.
New clay greeted the IMCA RaceSaver Sprinters, who took advantage of the two racing lines. Chris Ware and Anthony Linkenhoker paced the field as the green waved with Ware out first and looking strong.
Harris made the high line work for him as he clicked off passes and made his way to the front on lap ten. Harris continued to lead as Scott Lutz made it to second.
Daren Bolac started to slow with mechanical troubles as Tom Humphries went by, but nobody had anything for Harris as he flashed under the waving checkered flag.
The next Virginia Sprint Series race will be at Shenandoah Speedway on Saturday, April 29.
Feature results – 1. Jerald Harris; 2. Scott Lutz; 3. Tom Humphries; 4. Chris Ware; 5. Anthony Linkenhoker; 6. Tony Harris; 7. Michael Keeton; 8. Daren Bolac; 9. Mike Leraas; 10. Troy Sev­erin; 11. Bill Rice; 12. Brian Lawson.