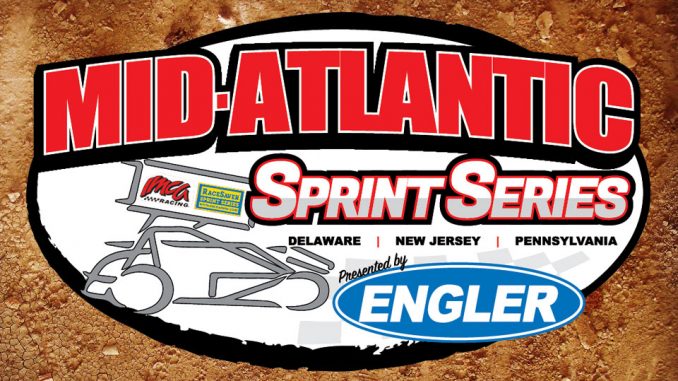 By Erika Palmai Wagner
BRIDGEPORT, N.J. – In honor of their family patriarch, the family of Craig Pellegrini Jr., the driver of the no. 27 Mid-Atlantic Sprint Series IMCA Racesaver Sprint Car, has graciously chosen to sponsor top five finishers in the season opener at Bridgeport Speedway on April 30 in memory of Albert A. Pellegrini, Craig's car owner, grandfather and mentor, who passed away earlier this year.
"My grandfather was a dedicated race fan who just loved going to the races when he could," Pellegrini Jr. noted. "As a child, I can remember spending my weekends with him and my dad at Bridgeport Speedway on Saturday nights, and also he often liked coming and watching me race go karts when we ran them before moving into a full-sized Sprint.  With this being the first race of the season since his passing, and also with it being the first race for the Mid-Atlantic Sprint Series, we couldn't have thought of a better way to remember him by than raising the ante on opening day in his name."
On April 30 at Bridgeport Speedway, dubbed the "fastest dirt track in the east," Mid-Atlantic Sprint Series drivers will race for an increased purse thanks to the Pellegrini family.
The winner of the 20-lap feature event will take home $500, with second earning $300, third place will receive $225, fourth will get $175 and fifth place will collect the advertised $150 plus a brand new Hoosier Racesaver Spec right rear tire.
Additional bonuses, including $50 to each heat race winner, and other added weekly contingency bonuses will also be up for grabs to MASS members.
Among confirmed entries for the series opener, in addition to Craig Pellegrini Jr., are Tim Tanner, Tommy Carberry, Bryant Davis, Stef Carberry, Joe Kay, Eddie Wagner, Jeff Geiges, David Bonner, Logan Diehl, Rick Stief, Bryant Davis, Brendon Poff, Harris Kohen and Dave Brown Jr.
The list of rookies making their MASS debut includes Patrick Compton, Austin Burke, Bobby Schreff, Dean Conk Jr., Tom Carberry, Doug Snow and John Webster Jr.
Pit gates open at 2 p.m., hot laps are at 4 p.m. and racing starts at 5 p.m. on opening night.
Albert A Pellegrini of Buena, N.J., was a zoning officer for Buena Vista township for over 25 years and also was employed by Bernal Mechanical for over 30 years as an estimator and purchasing agent. Pellegrini also owned a gas station in Vineland, N.J., where he built and worked on race cars that he raced at Vineland Speedway. Dedicated to his work and family, Albert never wanted anything less for his three sons and grandchildren whom he was survived by.
"He really made me smile at the track, and he always knew what was best for me," Craig Jr. recalls. "We were really looking forward to this upcoming season because we were finally going to be racing closer to home, but his memory will keep me going, and I will always be thinking of him and what he strived for me to be … fast."
 For more info on what's going on with the Mid-Atlantic Sprint Series, visit our Facebook page https://www.facebook.com/midatlanticsprintseries/ or visit our new website at www.masprintseries.com.