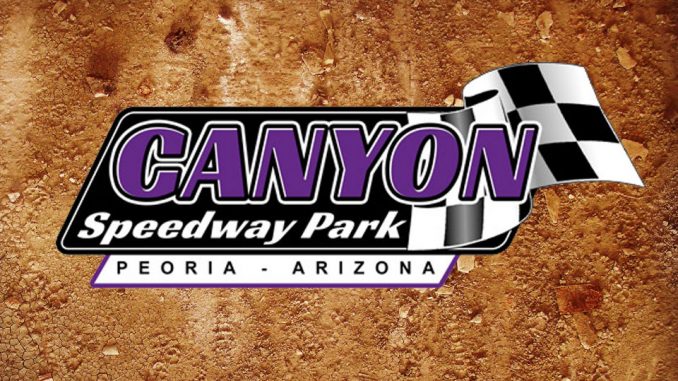 By Tony Steele
PEORIA, Ariz. (April 2) – George Fronsman captured his fifth victory of the season in the IMCA Sunoco Stock Car division while Bradley Stafford took home his third IMCA Sunoco Hobby Stock win in a row at Canyon Speedway Park on Saturday night.
The Stock Cars once again put on one of the best races of the evening. After picking up his first win of the season two weeks ago at the Shamrock Showcase, Cody Center jumped out to the early lead. Behind him the battle raged as Justin Thornton battled Fronsman throughout the first half of the race.
Fronsman continued to apply the pressure until he was finally able to make a pass to the inside in the late stages of the race. Fronsman went on to win his fifth feature of the year with Center finish­ing in the runner-up position. Thornton came home third.
The Hobby Stocks saw a three-way battle for the lead for a majority of their feature event before Stafford earned his third victory in a row at CSP.
Mark Farnes led early while Joe Vlasity worked his way up from sixth. Vlasity made his way to the out­side of Farnes where the battle began as the leaders raced side-by-side, lap after lap. Stafford worked his way into the fight, as he made it three-wide on numerous occasions.
In the end, the three-wide battle saw Stafford sandwiched in the middle where contact sent Vlasity spinning. Farnes had to check up to avoid hitting the spinning leader and Stafford sped away, earning the victory. Farnes finished second with point leader Merle Zachrison third.