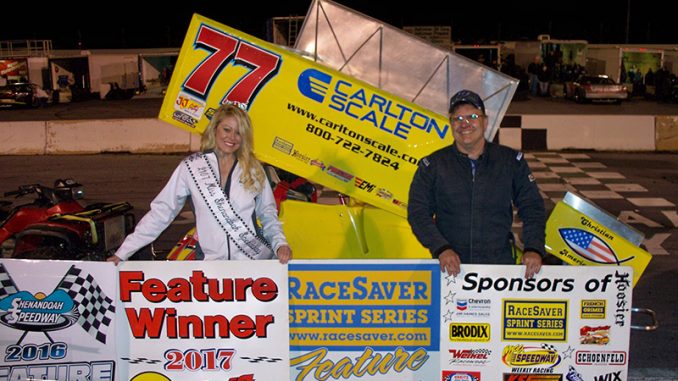 By Jim Haines
SHENANDOAH, Va. (April 1) – A cool evening greeted fans on opening night and Mike Leraas cooled off the rest of the Virginia Sprint Series field to take the feature win Saturday at Shenandoah Speedway.
Glenn Worrell and Leraas paced the IMCA RaceSaver main event field to green and it was Worrell out first with Leraas, Tony Harris and Jerald Harris all in a group at the front.
Laps clicked off fast as Leraas was making the high line work. He went to the front on lap 15 just as Worrell was fading. The Harris brothers went by Worrell also and Tony went on the attack.
Tony Harris got to the leader's bumper lap after lap but Leraas held on to win by a car length at the line
Feature results – 1. Mike Leraas; 2. Tony Harris; 3. Jerald Harris; 4. Glenn Worrell; 5. Bill Rice; 6. Anthony Linkenhoker; 7. Mike Keeton; 8. Josh Perreault; 9. Chris Ware; 10. Ryan Price.