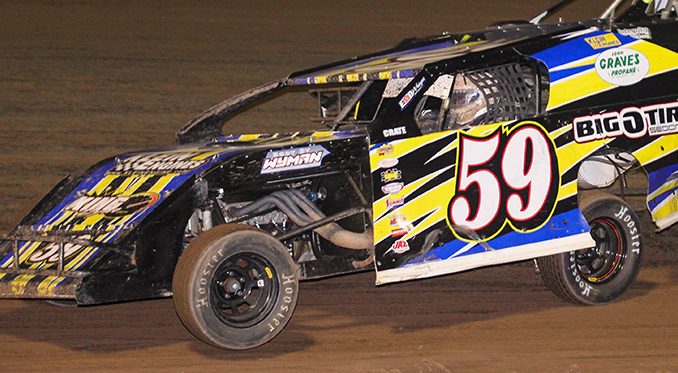 By Tony Steele
PEORIZ, Ariz. (March 18) – Chaz Baca Jr. took home his third win in four events at Canyon Speedway Park Saturday night in the Mark Stewart owned no. 59 IMCA Modified.
Baca continued to flex his muscles as he took his third win and fourth top two in the past four events he has entered at CSP. Baca was runner-up to Guy Norton on the first night of the Shamrock Showcase doubleheader before powering his way to victory on night number two.
John Parmeley led during the first half of the race and seemed to be the car to beat while Baca began to maneuver his way through traffic from the 10th starting spot. Once Baca found himself in second it looked like he wouldn't quite have the power to get around Parmeley until the leader slipped up in the middle of turns one and two, allowing Baca to make his way by on the inside.
Baca cruised away to victory and Parmeley held on to finish second in front of defending champion Mike Strobl, Jay Foster and Bubba Stafford.
The Karl Chevrolet Northern SportMods saw J.C. Parmeley sweep the weekend with another strong run on Saturday while Cody Center picked up his first win of the year in the IMCA Sunoco Stock Cars. Bradley Stafford was the second driver of the night to sweep the weekend at CSP when he took the checkered flag in the IMCA Sunoco Hobby Stocks.