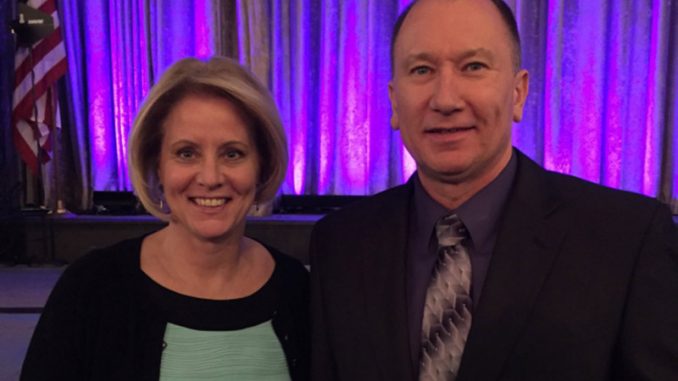 MARSHALLTOWN, Iowa – Kirk Niehouse has helped present awards to IMCA drivers at countless banquets during his 20-plus years as director of the Stock Car and Hobby Stock divisions.
He was the recipient of a regional award at the most recent banquet he attended, however, early this month in New York City.
An art instructor at Marshalltown High School, Niehouse received the Western Region Secondary Art Educator Award from the National Art Educators Association. He'd been nominated for the regional award after receiving the Outstanding Secondary Art Educator award from the Art Educators of Iowa.
"It was just 'Wow!' I never expected to get an award like this," said Niehouse, who teaches pottery and graphic design to students in grades 9-12. "I didn't get into teaching for this kind of thing. A lot of my fellow teachers helped me get to this point. It's not something you accomplish by yourself."
He had been nominated for the state award by another teacher. A Marshalltown High School graduate himself, Niehouse has taught in the district since 2001.
Both his work in the classroom and at the race track are about education.
"I've been with IMCA since 1995," said Niehouse, a former Stock Car driver. "My job as a division director is about educating track officials and racers about our rules and following them."
His Art Educators of Iowa award is on a bulletin board at school. Niehouse is mulling putting the na­tional award in a china hutch at home where his best of show award from the Iowa State Fair is already on display.
"When I started teaching, I never dreamed I'd win a national award like this. It was an honor just to be nomi­nated," he said. "I'm all for kids and helping people learn about art. Getting this award is just about as good as winning Super Nationals is how I feel about it."
"Not a lot of our drivers realize that Kirk is an art teacher or that he taught driver's ed. Not everyone who works for us is full-time," IMCA President Brett Root said. "Kirk has been a great part of our staff. He's very knowledgeable about the divisions and very good on rule enforcement."
"I think his teaching parleys well into his teaching drivers about our rules," added Root. "Our Stock Car and Hobby Stock drivers are very fortunate that Kirk has been involved with IMCA for as many years as he has."