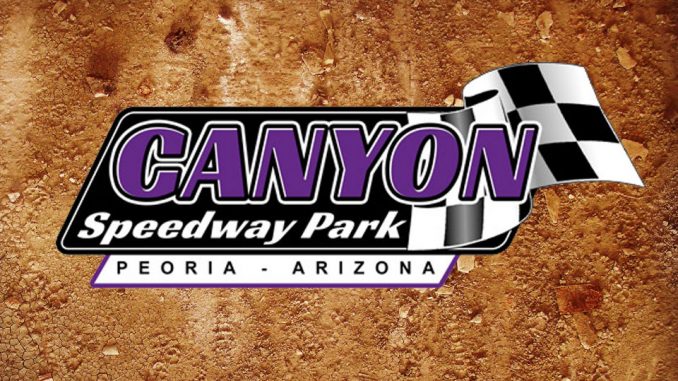 By Tony Steele
PEORIA, Ariz. (March 11) – Repeat winners were the story Saturday at Canyon Speedway Park.
Chaz Baca Jr. took home the Speedway Motors Weekly Racing opener for the IMCA Modifieds, coming off a $3,000 payday at the Desert Classic. George Fronsman took home his fourth win in a row in the IMCA Sunoco Stock Cars while Joe Vlasity battled to become the first repeat winner in the IMCA Sunoco Hobby Stocks.
Baca took the lead near the halfway point of the 25-lap Modified feature and held off Bryson Curry. Curry was fast all throughout the night as he came from the back of his heat race twice to finish third. Starting from the pole, Curry led the way through the first half of the race with Baca on his heels.
Around midway, Baca worked his way around Curry and never looked back, showing the strength of his Mark Stewart-owned machine. Mike Strobl worked his way toward the front to finish third.
Fronsman continued his winning ways as he bested 2016 Stock Car Shootout winner Aaron Span­gler. Cody Center held the lead through the first half of the race, fending off an earlier slide job by Fronsman with a crossover move in turn four. A few laps later, Fronsman was able to finish the job as the crossover was unsuccessful from Center.
Spangler worked his way through traffic to get past Center in the later parts of the event. Fronsman drove to his fourth win in a row, but competition has been close with Center and now Spangler, who will be back for next weekend's Shamrock Showcase.
Vlasity became the first repeat Hobby Stock winner of the year, denying Merle Zachrison his first win of the season. Zachrison led quite a bit of the race, ahead of a hard-fought battle between the rest of the top five runners.
Vlasity cleared the group and set his sights on Zachrison, who tried to hold on for the win but had to settle for second. The Hobby Stock division is on a roll, with roughly four cautions in their past four events, and is consistently putting on one of the best shows of the night.