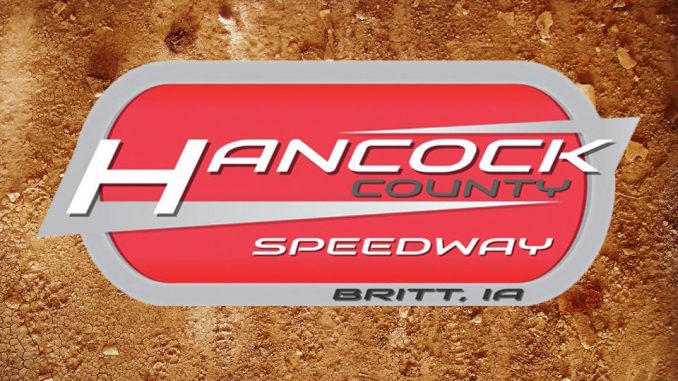 BRITT, Iowa – Friendships forged at the track led to the partnership that will promote weekly race programs this season at Hancock County Speedway.
4 Wide Promotions will be in charge of Friday shows featuring IMCA Modifieds, IMCA Sunoco Stock Cars, IMCA Sunoco Hobby Stocks, Karl Chevrolet Northern SportMods and Mach-1 Sport Compacts.
"We're really excited. It's a new venture for all of us," said Josh Omans, who partners with Brian King, Kyle Roose and Doc Sande. "It's going to be pretty sweet to be back at the race track every weekend."
Roose will be the race director and Sande will work with sponsors and in the VIP booths, while King and Omans handle a myriad of chores on both sides of the track.
Omans drove for Sande during his own career, which included stints in both the sanctioned Modified and Late Model divisions. King and Roose are co-owners of the Midwest Dirt Kart Challenge series.
"This was something we had talked about for a while. This time the timing was right and we put a proposal together for the fair board," Omans said. "Last fall we did a lot of painting, bleacher repair and dirt work. We want to get the track racy top to bottom, especially off turn two. We have done quite a lot of work on the banking."
While returning to 'traditional' Friday night racing, Hancock County Speedway continues lengthy associations with IMCA as well.
IMCA Modifieds and Stock Cars both run at Britt for a 19th season in 2017 while IMCA Hobby Stocks return for the 16th season on the 4/10-mile oval. Hancock County has sanctioned the Northern SportMods since 2010 and the Sport Compacts since 2013.
Hancock County is part of IMCA's Side Biter Chassis North Central Region for Modifieds, the EQ Cylinder Heads Northern Region for Stock Cars and the Big Daddy Race Cars Northern Region for Hobby Stocks.
"Keeping the IMCA classes was always in our plans," said Omans. "It's what the fans expect and what the drivers expect."
The MaxYield Seed Northern SportMod Nationals are June 20 and the Arnold Motor Supply Hawkeye Dirt Tour comes to town for the June 27 Salute to Veterans event.
A trio of Modified specials at Britt wrap up a rich weekend of IMCA racing in northern Iowa in August. The Night of 1,000 Stars is scheduled Aug. 10, the Night of 10,000 Stars on Aug. 11 and the All Star Race on Aug. 12.