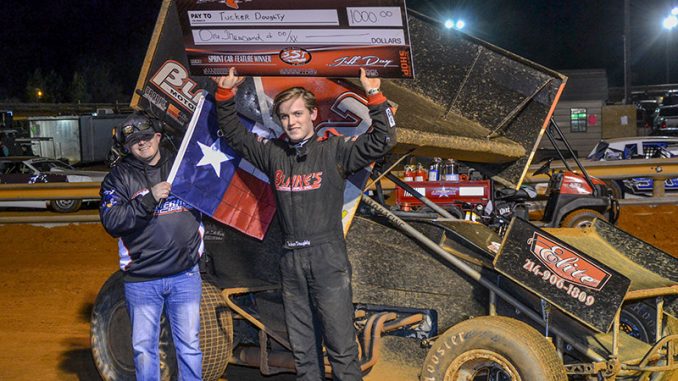 WINONA, Texas (Feb. 25) – Any lingering questions Tucker Doughty might have had about the start of his 2017 season were answered when the Sprint Series of Texas opened Saturday at Rose Bowl Speedway.
Doughty led the last half of the IMCA RaceSaver main event to earn $1,000 for his career-first SST victory.
"It had been a really long off-season," said Doughty, who had been injured in a traffic accident in December and needed nearly 60 stitches in his right leg. "It was a great way for us to start the season."
He had finished seventh in the season-opening Smackdown special at Lone Star Speedway on Feb. 11.
"It had definitely crossed my mind how (the accident) would effect my racing but after we knocked the cobwebs off at Kilgore we were ready to go," Doughty said. "My dad Sean is my crew chief and he had the car ready."
Austin Mundie, Dale Wester, Chip Graham and Brad Queen completed the top five at Winona.
Doughty started the 20-lapper from outside row four and had worked his way up to second by lap nine. When leader Josh Hawkins committed to the higher line and got stick behind a slower car, Doughty ducked inside to take away the front spot.
"You could pretty much run wherever you wanted to on the track," he said. "Once I got clear air in front of me I was able to pull away a little."
Feature results – 1. Tucker Doughty; 2. Austin Mundie; 3. Dale Wester; 4. Chip Graham; 5. Brad Queen; 6. Jeff Day Jr.; 7. Robert Vetter; 8. Bryan Bolden; 9. Chance McCrary; 10. Blake Baccus; 11. Michael Day; 12. Cody Robbins; 13. Josh Hawkins; 14. Tommy Hall; 15. Jr. Jenkins; 16. Josh McCord; 17. Steve McMackin.