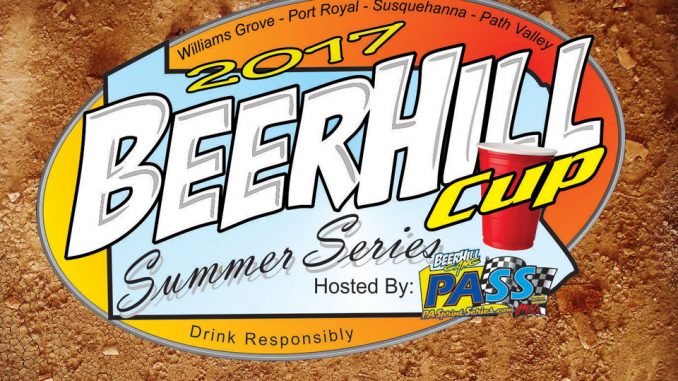 MECHANICSBURG, Pa. – The Pennsylvania Sprint Series and the Beer Hill Gang are happy to announce the Beer Hill Cup Summer Series.
The series will be six races featuring IMCA RaceSaver Sprint Car teams, at Williams Grove Speedway April 28, May 26 and Aug. 18; at Port Royal Speedway on Aug. 5; at Susquehanna Speedway June 8; and at Path Valley Speedway on July 15.
Points will be accumulated using the IMCA 40-point system and an overall champion will be determined on Aug. 18 at Williams Grove. The first-ever champion will be honored on the fourth turn with Beer Hill Gang TV live streaming the ceremony.
The champion will receive an impressive and unique Beer Hill Cup trophy and 25 percent of the overall point fund with second through fourth place each receiving 20 percent and the fifth place driver taking home 15 percent.
A commemorative shirt has been designed and organizers are currently seeking sponsors for the shirt. The presenting sponsorship for the shirt is available for $1,000 and associate sponsors are available at $250 per spot. Anyone interested can contact Matthew Miller with the Beer Hill Gang or webmaster@pasprintseries.com.
The goal is to have sponsors cover the cost of the shirts and have them ready for the first races of the season at the Beer Hill Gang trailer at Williams Grove and at PASS events. An overall goal of $4,000 has been set for fundraising so the winner could receive up to $1,000.
Any amount over the goal will go to the PASS point fund as well as funds from any upcoming event to be announced.