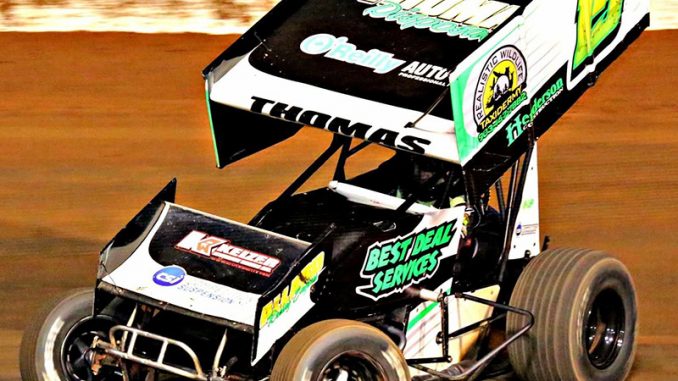 KILGORE, Texas (Feb. 11) – Marcus Thomas started his 2017 at Lone Star Speedway in the same place he ended 2016.
In victory lane.
Thomas drew the pole start and led all 25 laps in winning Saturday's Sprint Smackdown, the first event of the season for IMCA RaceSaver Sprint Cars.
The checkers were worth $1,200.
"We've had pretty good luck here," said Thomas, who also has a runner-up finish in three career starts at Kilgore. "They do a good job on the track but you have to stay smooth and not make any mistakes. That plays a big part of racing at Lone Star."
Austin Mundi did his best to work his way through lapped traffic and reel in Thomas but finished a couple car lengths off the pace. Josh Hawkins and former national champions John Ricketts and Chad Wilson completed the top five.
Thomas had started sixth and finished second in his heat. He ran the higher line early in the feature, then dropped down to a lower groove in the first set of turns later in the contest.
"We ended the season with a win there last year and we started this season with a win," he said. "That was huge for us. It gets us off to a good start and gets us good momentum.
Thomas plans to race "here, there and everywhere" this season, including Kennedale Speedway Park, where he's the defending track champion, and RPM Speedway.
He'll also catch an occasional race with the Elite Non-Wing Sprint Car Series, looking for the first non-wing win of his career in the class.
Feature results – 1. Marcus Thomas; 2. Austin Mundi; 3. Josh Hawkins; 4. John Ricketts; 5. Chad Wilson; 6. Jake Martens; 7. Tucker Doughty; 8. Ryan Hall; 9. Robert Vetter; 10. Chip Gram; 11. Michael Day; 12. Logan Payne; 13. Johnny Brown; 14. Koty Adams; 15. Zach Blurton; 16. Jacob Harris; 17. Brandon Long; 18. Tommy Hall; 19. Josh McCord; 20. Channin Tankersley; 21. D.J Estes; 22. Martin Edwards; 23. Dale Wester; 24 J.D. Fry.