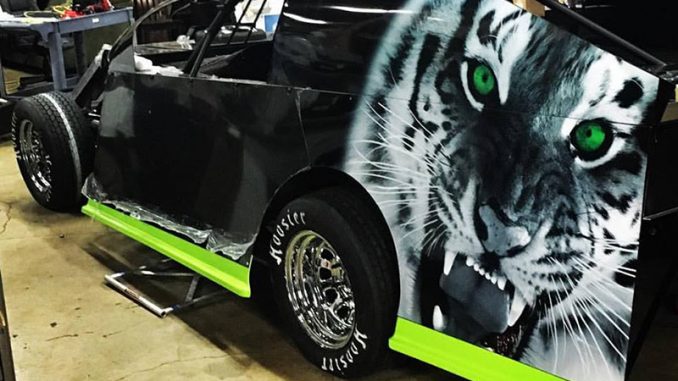 By Ben Deatherage
EUGENE, Ore. – Opening night of Winter Nationals is this evening (Friday) at Cocopah Speedway. It will also be the first round of the eight-race inaugural IMCA Arizona Modified Tour and Jesse Williamson, from Eugene, Ore., is among the 160-plus drivers pre-entered in the inaugural event.
Williamson will debut a brand new 2017 Rage Chassis, sponsored by Furniture Options, Team SDMF, Custom Powder Works, Raceprint.com and Schram Brothers Excavating.
"This is a pretty cool deal that they've put together with the Mod Tour," said Williamson. "We're going to do a lot of racing in a short amount of time."
Williamson knows what it's like to stand on the top step of a tour podium, with three IMCA Wild West Modified Shootout crowns to his credit.
The third-generation driver and grandson of Oregon legend Don Wilson won three times last season at Cottage Grove Speedway and once at Willamette Speedway. He's eager to get on track with the new Rage.
"I'm really excited to try something new with this chassis," he said. "They're really doing very well around the country."
The tour is at Cocopah for Friday, Saturday and Sun­day events Feb. 10-12, at Arizona Speedway Tuesday, Feb. 14; at Canyon Speedway Park Thursday and Friday, Feb. 16 and 17; and at San Tan Ford Central Arizona on Saturday and Sunday, Feb. 18 and 19.
Modified features pay $1,250 to win and are Fast Shafts All-Star Invitational ballot qualifying events.
All eight programs will be broadcast by IMCA.TV and on MAVTV.