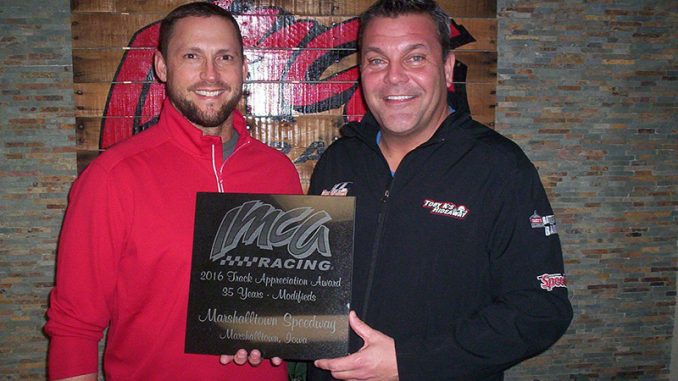 MARSHALLTOWN, Iowa – The Central Iowa Fair Board and race promoter Toby Kruse have signed an agreement to continue their relationship for another 10 years. Kruse has been pro­moter of the Marshalltown Speedway since 2006.
Central Iowa Fair President Tyler Wollam indicated that the new agreement will be beneficial for everyone.
"Toby has long been one of the most sought-after race promoters in the entire country. We have been thrilled with the work he has done over the last decade as well as the improvement projects we have been able to collaborate on," he said. "I am confident that under his continued leader­ship, Marshalltown Speedway will remain a destination location for race teams and spectators from all over the country for many years to come."
The new contract became effective on Jan. 1 of this year, and will run through the 2026 racing season. Fans of the speedway will be happy to know that there will be more improvements on the hori­zon for the historic dirt track.
"Both Toby and the fair board have been committed to the success of the speedway," Wollam stated. "Together we have already invested hundreds of thousands of dollars into facility up­grades. There is still more to be done and this new contract will allow the needed improvements to occur."
Weekly racing at the high-bank quarter mile track occurs every Friday night from March to Septem­ber, and is sanctioned by IMCA. In 2017 the weekly racing program will feature five IMCA-sanctioned divisions including Modifieds, Late Models, Stock Cars, Hobby Stocks and Karl Chevrolet Northern SportMods.
The Stock Car division at Marshalltown has been sanctioned by IMCA since 1984, longer than any other track in the country, while the IMCA Late Models return to Marshalltown as part of the weekly program for the first time since 1990.
"Our relationship with Toby extends to his announcing days at Boone Speedway to his employment as our director of track relations before he took over as promoter at Marshalltown," IMCA president Brett Root said. "Toby has done an excellent job there and the return of Late Models will be a great addition to weekly racing at Marshalltown."
"The terms of this contract give everyone, the fair board, Toby and drivers, a sense of security," Root continued. "We look forward to sanctioning those divisions during the next decade as well."
Marshalltown Speedway is located at the Central Iowa Fairgrounds at 1308 East Olive Street in Marshalltown. For more information regarding the Marshalltown Speedway including a 2017 rac­ing schedule, visit www.marshalltownspeedway.com.