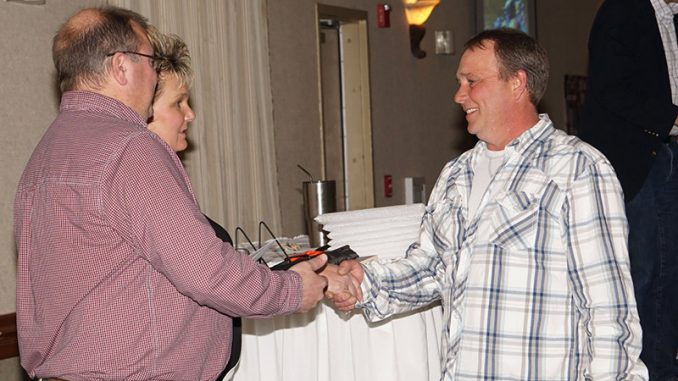 By Dana Royer
WEST BURLINGTON, Iowa (Jan. 7) – 34 Raceway held its 2016 season awards banquet in Burling­ton Saturday evening, Jan. 7. The evening included a banquet meal, recognition of top 10 drivers, sponsors and a number of special award recipients.
34 Raceway completed another successful year and track officials are looking forward to another great season in 2017 with some familiar and new events on the upcoming schedule.
Drivers who finished in the top ten and were eligible for money and awards were recognized as well as the 2016 track champions. In order to receive recognition and point money, each driver had to participate in a minimum of 75 percent of 34 Raceway's point events in 2016. In 2016, 34 Raceway paid out just over $500,000 to racers during the six-month season.
In seven divisions, 50 drivers were eligible to receive money and awards. More than $12,000 was paid out.
Jeff Waterman of Quincy, Ill., was the Xtreme Motor Sports IMCA Modified track champion while John Oliver, Jr. of Danville won both IMCA Sunoco Stock Car and Karl Chevrolet Northern SportMod titles.
Coming up in 2017 Jeff and Amy Laue, Scott and Lorrie Parish and Tom and Sue Bowling will be in their 11th year of ownership of 34 Raceway.
The 2017 season begins on March 18th with the much anticipated and popular Heartland Harley Davidson Car Show. There is no need to register, just bring your cars to show off and get your sponsors recognition. The Saturday night of the car show we'll kick off the season at Roederer's Pit Stop in Burlington.
Test and tune will be held Saturday, March 24, with the first racing event on Saturday, April 1.
Along with its regular Saturday night weekly program this year will mark the return of the Deery Brothers Summer Series for IMCA Late Models.