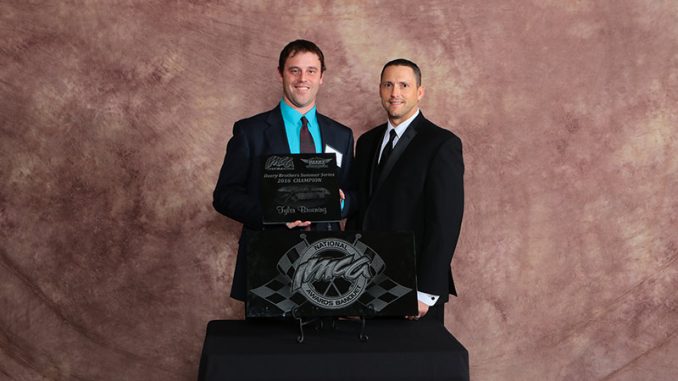 DECORAH, Iowa – Tyler Bruening admits that there were a few sleepless nights before the end of his Deery Brothers Summer Series dream season.
Bruening and Jeff Aikey took their race to the 2016 IMCA Late Model tour title down to the final event. While engine issues sidelined the seven-time champion, Bruening rocketed from 21st starting to sixth at the finish to capture his career first crown.
"This was a huge dream come true. When I started racing, my goal was to not get lapped so we've obviously come a long way. We have come leaps and bounds with our entire program," he said. "I'm really proud of becoming the Deery Series champion. When my dad (Greg) raced, this was a goal of his. I'm very proud to have accomplished this feat."
From Decorah, Iowa, Bruening qualified for his first Deery feature in 2005 and has been a series regular since 2009.
He won the Yankee Dirt Track Classis and $7,500 at Farley Speedway – all three of his career tour wins have come at the Yankee – and recorded another six top five finishes in 16 series starts this season.
"The whole year was a highlight for us. Winning a third Yankee was definitely a huge feat. We'd gone through a dry spell and one year didn't even make the show at Farley," said Bruening. "When I went to Farley the first time, I loved the track. It's super racy and had been one of the tracks we've gone to and had success."
Forced to take a provisional after mechanical problems sidelined him in both his heat and 'B' feature, Bruening proved his mettle in the 30th annual series' finale at West Liberty Raceway.
"It was nerve wracking, to be honest. I didn't sleep well the couple nights before and with the way the night started it seemed like the cards were stacked against us," he said. "I knew I had a good car and definitely raced well to get to sixth."
He celebrated his birthday and the Deery Series championship with a friendly get together in October. Friendly nemesis Aikey and his crew were among the guests.
Starts: 16
Wins: 1
Additional Top Fives: 6
HIS CREW: Father Greg and Zeb Holkesvik. 
HIS SPONSORS: Bruening Rock Products, Skyline Construction, Truck Country, Olson Explosives and Hovden Oil, all of Decorah; Bennett Explosives of Manchester; Minnowa Construction of Harmony, Minn.; Capital Race Cars of Woodstock, Ga.; and Clement Racing Engines of Spartanburg, S.C.