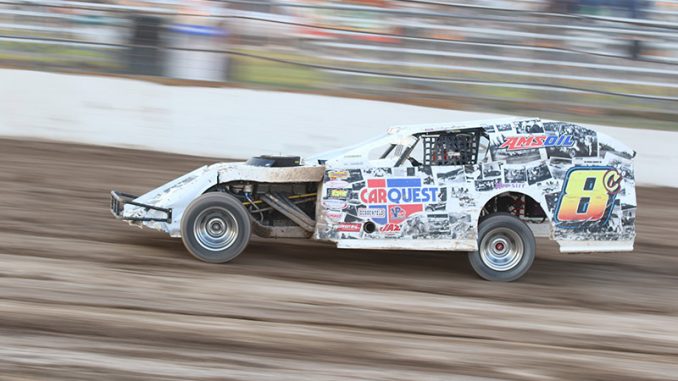 JACKSON, Wy. – The opportunity to travel helped Chris Clark decide the Xtreme Motor Sports IMCA Modified division was right for him.
Following a stellar 2016 season, the Jackson, Wy., hotshoe traveled to the IMCA national banquet in Lincoln, Neb., to accept his first track and state awards in the class.
"We did some things, especially the first half of the season, when everything I touched turned to gold," said Clark, a seven-time feature winner as well as the top driver in track standings at Atomic Motor Raceway and Idaho Falls Raceway, as well as the Allstar Performance Idaho State champion. "I never expected to have a season like this."
His success came aboard a 2012 GRT Clark has driven for three years. He'd purchased the car from perennial top runner and former Wild West Tour foe Justen Yeager.
"Justen really helped with the learning curve. Buying that car and stepping up in other areas of our program, from custom built shocks and other components and even a better seat from The Joie of Seating has really made a difference," Clark emphasized. "We were kind of getting there last year. My goal became to get to the point where I could run with the top guys in the region and win a track championship."
An Ohio native, Clark enjoyed a brief motocross career while in his teens and hoped to get into automotive racing. He was a fan at Idaho Falls before he started racing in a local outlaw street stock class.
"A fellow who was borderline legal would come down and race with us. Nobody could beat him," Clark said. "I decided I wanted to race in a class that had rules and where you could travel. Part of what I liked about the IMCA Modified was that it was less expensive."
Clark didn't duck away from many of the heavy hitters in the Larry Shaw Racing Western Region, hitting as many Wild West Tour dates as possible.
"The first IMCA Modified event I raced at was a Wild West Tour race. I don't think I made the 'A' main. I struggled for the first few years, really," he said. "I didn't ask as many questions as I probably should have but a friend set up the car the way he would have for himself and I ended 2010 with two wins on the final weekend."
He squeezed in as many nights as his schedule would allow each of the next five years, battling with Yeager and Casey Delp in a close race for the fourth spot in WWT standings in 2014.
"I went out and raced in full fields of cars, with much faster guys, and did better every year on the tour," said Clark. "When I wasn't doing that I traveled on a regional scale, like to Gillette. I ran the Kupper Chevrolet Dakota Classic Tour for two years and went to Super Nationals the last two years. I was competitive at Boone this year."
Sponsored by CarQuest, AMSOIL and Beyea Headers, Clark travels with wife Maria Alyce and son Connor in a combination camper/hauler.
He'll attend a chassis setup school and pick up a new GRT in January.
"I started working with Bob Harris on shocks and setup in 2015," Clark said. "He's helped me a lot and answered a lot of questions. We're looking forward to next season."