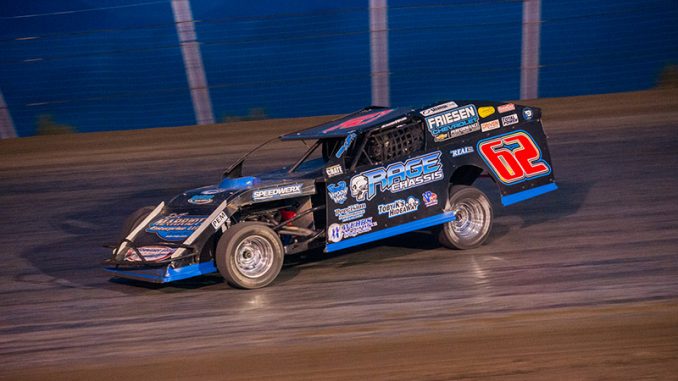 BROOKFIELD, Mo. – The motto for Hunter Marriott's 2016 season was "Have race car, will travel."
The Brookfield, Mo., driver was champion of the Kupper Chevrolet Dakota Classic Tour during a season that saw him win Xtreme Motor Sports IMCA Modified series and special events, as well as weekly features in Arizona, Iowa, Wisconsin and North Dakota.
"Winning the tour championship was pretty awesome. The more work we put into it, the better we got. We got a ton of races, we've got a good team and we learned a lot," said Marriott, who traveled to a staggering 28 different tracks over the course of 46 starts. "I believe if you can unload at someplace you've never been and race well, you become a better driver. You've got to be a traveler."
Marriott prevailed in a record-setting tour that saw an average of better than 90 entries a night. He followed the main event win at Williston Basin Speedway with a runner-up showing at Southwest Speedway and wrapped up the title by finishing third at Dacotah Speedway.
"The first night at Williston was probably the highlight of the series," Marriott said. "It felt good to win that one, when drivers like Ricky Thornton Jr. and Jordan Grabouski have won there the last couple years."
His early season success came in Arizona, with victories during the Winter Challenge Series at Canyon Speedway Park and Winter Nationals at Cocopah Speedway.
Marriott pocketed $5,000 for victories at Oshkosh SpeedZone Raceway's Battle at the Zone and Clay County Fair Speedway's special, the latter also a Hawkeye Dirt Tour event, then took home the $7,000 top prize from Hancock County Speedway's Night of 10,000 Stars.
While looking for an even better year in 2017, Marriott's race schedule will be dependent on the weather more so than most drivers: He works for his family's cleanup business and is on the job around the country in the event of hurricanes, floods and other natural disasters.
Starts-3                                                       Wins-1                                                         Additional Top Fives-2
HIS CREW: Tyler Fralin 
HIS SPONSORS:  D & T Marriott Enterprises of Brookfield; Timberline of Lathrop, Mo.; Friesen Chevrolet of Sutton, Neb.; Wehrs Machine & Racing Products of Bangor, Wis.; Strange Oval of Morton Grove, Ill.; Performance Bodies of Cedar Falls, Iowa; Rage Chassis of West Union, Iowa; Precision Performance of Oxford, Iowa; Toby K's Hideaway of Boone, Iowa; Widow Wax of Alta, Iowa; and Driven Race Oil of Huntersville, N.C.