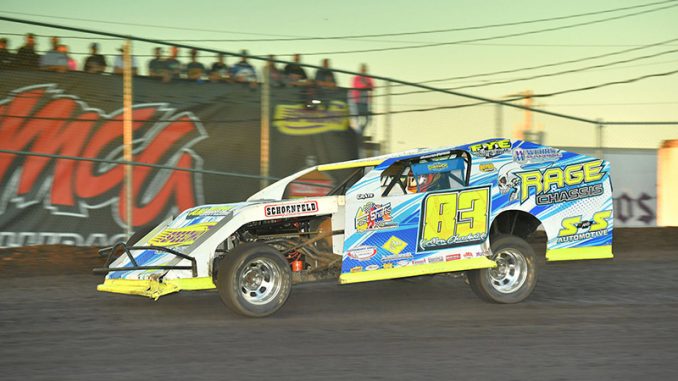 OAKLEY, Calif. – Kellen Chadwick had a feeling that he could be competitive in the Wild West Shoot Out.
He didn't anticipate winning four of the six $1,000 to win Xtreme Motor Sports IMCA Modified tour features in his home state of California, Oregon and Washington.
After a runner-up finish on opening night at Southern Oregon Speedway, the Oakley charger took back-to-back checkers at Siskiyou Motor Speedway and Cottage Grove Speedway.
He was 15th on night two at Cottage Grove and Willamette Speedway got rained out after he won qualifying heats and redrew the third starting spot in the main event. Chadwick wrapped up the tour crown with wins at Sunset Speedway Park and Willamette Speedway.
"We had talked about going on the tour earlier in the year but didn't decide to go until about a month ahead of time," he said. "I had been to all the tracks before except Willamette.  I'd raced at Southern Oregon's Lon Skinner Memorial and done well and had won before at Elma and Cottage Grove.
While a record 90-plus Modifieds saw action over the course of the tour, Chadwick got the best of them in a Rage Chassis delivered from Iowa in time for a Memorial Weekend shakedown at Santa Maria Raceway.
"We came home and made a couple subtle spring changes. Whatever we did, we did right," Chadwick said. "To win the tour in a brand new race car that had two nights on it was really something."
All four tour wins were special, he added, particularly those at Cottage Grove and Sunset.
"I love Cottage Grove to begin with and we battled with Tripp Gaylord three-fourth's of the way," Chadwick said. "I led every lap at Banks and got to run with Ken Schrader. He came by after the race, held my newborn son Kolten for a photo and hung out at the trailer."
"My wife let me go play for a week while she took care of a newborn," he added. "I wouldn't have been able to do this without her."
Feature wins at Keller Auto Speedway at Kings Fairground in mid-May and at Petaluma Speedway in mid-August bookended Chadwick's point season outings. His grandfather Don Paladino heads his crew and works on the car every day.
Starts: 6
Wins: 4
Additional Top Five: 1 
HIS CREW: Wife Christina and children Jordan, Jayce, Elizabeth, Kendall and Kolten; parents Chad and Tina; grandfather Don Paladino; and brother-in-law Brian Pearce. 
HIS SPONSORS: Rage Chassis of West Union, Iowa; Pro Motorsports of Oakley; A & B Landscape of Brentwood; Black Diamond Builders of Pittsburgh; Fast Shafts of Des Moines, Iowa; Performance Bodies of Cedar Falls, Iowa; Wehrs Machine and Racing Products of Bangor, Wis.; Schoenfeld Headers of Van Buren, Ark.; Antioch Muffler of Antioch; and FYE Motorsports Promotions of St. Cloud, Minn.