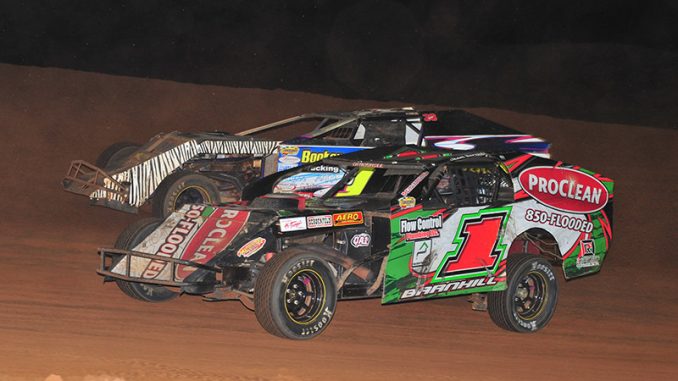 PACE, Fla. – At the end of a nerve-wracking finale, Jason Barnhill became a repeat champion in the Bay Area Emerald Coast Tour.
Locked in a tight battle with Kyle Rutkoski for the Xtreme Motor Sports IMCA Modified series crown, Barnhill had to race his way through the Sept. 24 field at Southern Raceway after exiting to replace a cut tire and restarting at the back.
His fourth place finish gave him a one-point edge over Rutkoski in the final tour standings.
"I think the second championship was more satisfying. It was good to know we could back it up and winning it last year wasn't just luck," said Barnhill, from Pace, Fla. "One of the biggest things for us this year was maintenance. I spent more time under the car than in it. The two times I finished outside the top five were both drive train issues."
The second annual series returned with dates at Southern, Northwest Florida Speedway and Flomaton Speedway. Barnhill won five of the 15 Bay Area Tour features, including a streak of three in a row from May 14 to June 11.
Also the Allstar Performance Alabama State champion, he dueled with eight-time winner and Florida State king Rutkoski from the tour's opening night in March.
We raced tight all year long. The majority of the time, it was me or him getting the win," said Barnhill, who credited fellow driver Greg Hopkins for his assistance throughout the campaign. "The final night was definitely nerve wracking. I'd lost my right rear spring and finished on three wheels pretty much."
Starts: 15
Wins: 5
Additional Top Fives: 8 
HIS CREW: Wife Tina, daughter Brystal, John Barnes Russ Harris, Jamie Brooks, Anthony 'Dirty' Falzone and employees of Flow Control Plumbing. 
HIS SPONSORS: Flow Control Plumbing and Pro Clean, both of Pensacola; and R Squared and Sowell Performance, both of Milton.