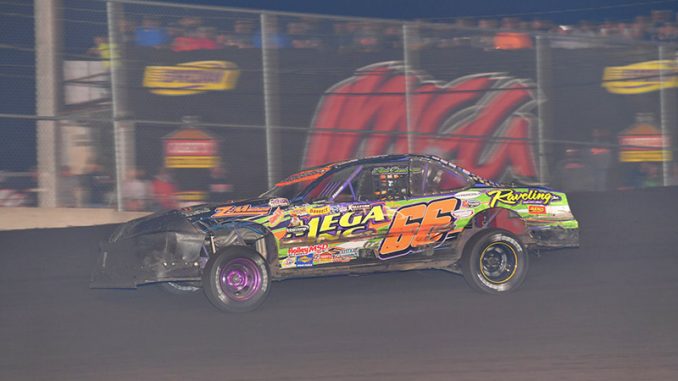 OCHEYEDAN, Iowa – Elijah Zevenbergen returned to familiar surroundings to win the Kupper Chevrolet Dakota Classic Stock Car Tour for the third time in four years.
Then he made his first-ever visit to Boone Speedway and won on IMCA's biggest stage.
"The Dakota Tour is a nice little vacation. We have some friends out there," said Zevenbergen, from Ocheyedan, Iowa. "Williston and Nodak are my favorite tracks on the tour and were two that got rained out, but nonetheless we won at Dickinson and Mandan, so it was a good tour."
His week at Boone was even better as Zevenbergen topped the Saturday night IMCA Speedway Motors Super Nationals fueled by Casey's main event.
"It was kind of a standing joke in the pits, people asking me why I was there because I'd never raced at Super Nationals before," he said. "It was a pretty crazy deal, no doubt about it, but I had a lot of good people helping me."
"Super Nationals was the biggest win of my career. It was pretty surreal. To win with all those good drivers there was a huge honor," he continued.
His 11 feature wins were a single-season career best. In addition to Boone, Zevenbergen made starts at 15 tracks, scoring late-season victories at Arlington Raceway's Joe Voss Memorial and on opening night of the Iron Cup at Park Jefferson Speedway.
"I'm not a points racer. I like to bounce around. It might be noon on Saturday before I decide where I'm going to race," he said. "We had a phenomenal year. "Everything just fell into place."
Starts: 3
Wins: 2
Additional Top Fives: 0
HIS CREW: Parents Loren and Sue Zevenbergen, girlfriend Kim Cuadros and friends.
HIS SPONSORS: Z Machine, Mega Inc., Bow Tie Auto Repair and D & K Transportation, all of Ocheyedan; and Raveling Inc. of Melvin.