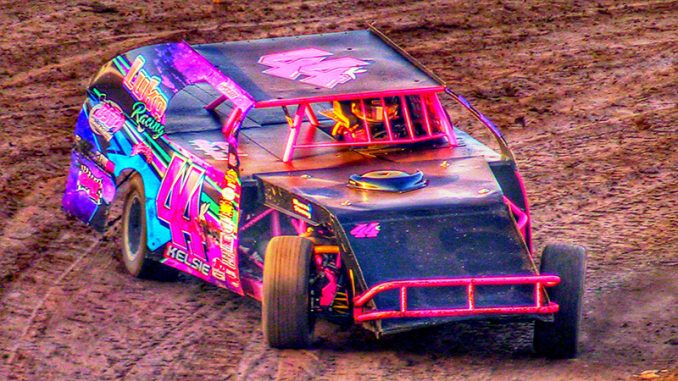 TUCSON, Ariz. – The first female driver to win IMCA regional rookie of the year honors knew all about going someplace fast long before her first Xtreme Motor Sports IMCA Modified season.
Kelsie Foley, 19 years old and the top rookie in the Larry Shaw Racing Western Region, completed EMT certification during her senior year of high school. She started attending summer fire academies at the age of 16, going on ride-alongs during eight hour shifts with local fire crews and emergency personnel.
On track, Foley follows in the tire tracks of her father John, who raced on asphalt and then dune buggies before taking over as her crew chief. They traveled in an old Dodge pickup and towed an open trailer to six different tracks in Arizona and California.
"Our goal this season was to win the Western Region rookie. We looked at this year as a learning experience," said Foley, who logged 28 starts. "My dad and I both had asphalt backgrounds so we came out with our eyes open and our ears open ready to learn. We had three blown motors so we spent the first half of the season trying to get the car to run right before we could even worry about setup."
"We never had an actual practice night. We tried everything out in an actual race," she continued. "We started to get really fast toward the end of the season."
Foley started racing hornets at 14 and a single special on a big 3/8-mile oval was all it took to convince her she didn't want to go back to racking on smaller tracks.
She campaigned in a factory stock the next two seasons, winning seven features and becoming the first female driver to win a track title in her second year in the class. Two seasons in an X Mod – similar to a Karl Chevrolet Northern SportMod – preceded her rookie Modified year.
"We had a choice of going to a Northern SportMod or a Modified," said Foley, who bought a 2016 Shaw chassis with her winnings from 2015, plus proceeds of the sale of her X Mod and T-shirts. "We wanted to win the regional rookie award and we learned a lot this season."
Starts: 28
Wins: 0
Top Fives: 3
HER CREW: Father John.
HER SPONSORS: GAT Racing and Farm Bureau Financial Services, both of Tucson; Luke Racing of Phoenix; and BSB Manufacturing of Wellington, Kan.