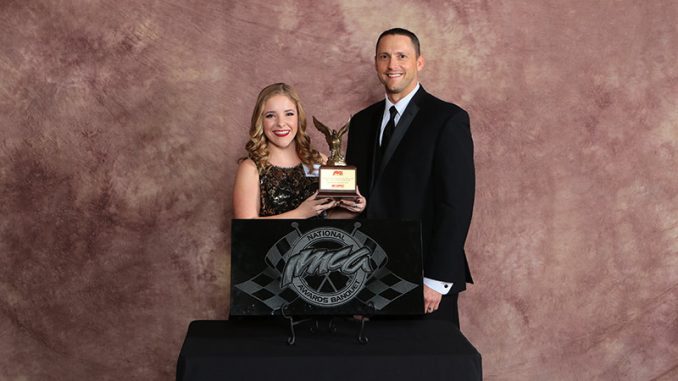 KELLER, Texas ­– Better competition made Kamera Kaitlin McDonald a better driver.
The Scoggin-Dickey Parts Center Southern SportMod national rookie of the year from Keller, Texas, tallied three feature wins while running weekly at Boyd Raceway and Kennedale Speed­way Park, also the regular venues for national champion Jeffrey Abbey and a host of the divi­sion's heavy hitters.
"I have raced with the Abbeys forever. It's always been a goal of mine to be competitive," said McDonald, 15 years old and a sophomore at Timber Creek High School. "I got three of the wins Jeffrey could have had. Once I won my first race (on June 11 at Kennedale) we strived even harder."
McDonald was runner-up to Abbey at KSP, third behind Abbey and Ronnie Welborn at Boyd and fourth in the national points race.
"Seat time was very important. I learned to get a feel for the car and read more into the track," said McDonald, who made 47 starts at five different speedplants in Texas and Oklahoma. "That helped me develop as a driver. That was the biggest thing I learned this season."
She was 17th when the division made its Labor Day debut at the IMCA Speedway Motors Super Nationals fueled by Casey's, an event she described as both exciting and amazing.
McDonald began racing a go-kart at the age of eight, then in the Bandolero, Legends and mini-stock classes. She's the second female driver in as many years to earn national rookie of the year honors in the Southern SportMod division.
"It's quite an honor for me to follow in Taylor Florio's footsteps. It also means a lot to me to be one of the youngest rookies of the year," McDonald said. "I will be refining my driving skills and experienc­ing new tracks next season, trying to prepare for a run for the championship in the near future."
Starts: 47
Wins: 3
Additional Top Fives: 12 
HER CREW: Parents Tim and Karan, John Sliney and Dean Abbey and his crew.
HER SPONSORS: TM Racing of Keller; DAE Enterprises of Fort Worth; and Abbey Racing of Comanche.