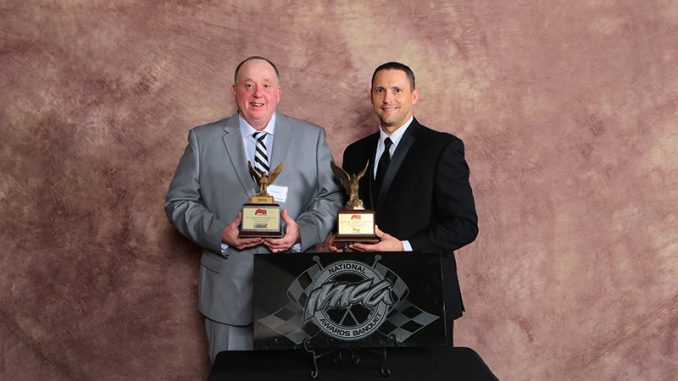 MOORHEAD, Minn. – Three decades after his last race, Tim Church returned to the track with that same competitive spirit.
The IMCA Sunoco Hobby Stock driver from Moorhead, Minn., has national and Big Daddy Race Cars Northern Region rookie of the year awards, as well as a trio of track championships to prove it.
Now 52 years old, Church had run a handful of enduros in the 1980s before getting married, start­ing a business and raising his family.
Wife Bonnie and daughters Teresa and Carla encouraged him to get back behind the wheel so he bought Shannon Anderson's 2015 ride and made the tow home to Moorhead, Minn., through a snowstorm with an open trailer.
"Whatever I raced, it had to be a big body car. That's what I like and I wanted to race IMCA be­cause I wanted to run a crate engine," Church said. "I got seat time at Spring Nationals in Be­atrice and wore out two sets of tires at an open practice at North Central Speedway."
He ended his rookie season as champion at Norman County, Buffalo River Race Park and Red River Valley Speedway.
"I had some awesome people helping me and our goal at the start of the season was to win a cou­ple heats and maybe a feature. By the middle of August, we were disgusted if we weren't in the top two or three," Church said. "I ran consistent but gave up some leads when I ran out of tal­ent. I started feeling comfortable in the car in mid-August."
He was one of three Minnesota drivers in the division to win three local track titles, joining Justin Luinenburg and Cory Probst in the accomplishment.
Church plans to return to the division in 2017 in a car with the same paint scheme as the IMCA Sunoco Stock Car brother-in-law (and crewman) Corry VanMil will pilot.
"We feel confident now," he said. "I feel I'll be tough to beat locally next year."
Starts: 44
Wins: 5
Additional Top Fives: 15 
HIS CREW: Wife Bonnie, daughters Teresa and Carla, Lorin Johnson, Corry VanMil, Rob VanMil, Chris VanMil, James and Nancy Nachreiner, and Frank Neisein.
HIS SPONSORS: Valley Alignment & Repair of Moorhead; Up North Country Sales and The Hill Lounge, both of Glyndon; EZ Open Garage Door of West Fargo, N.D.; and Josh Lugert Trucking of Fairmount, N.D.