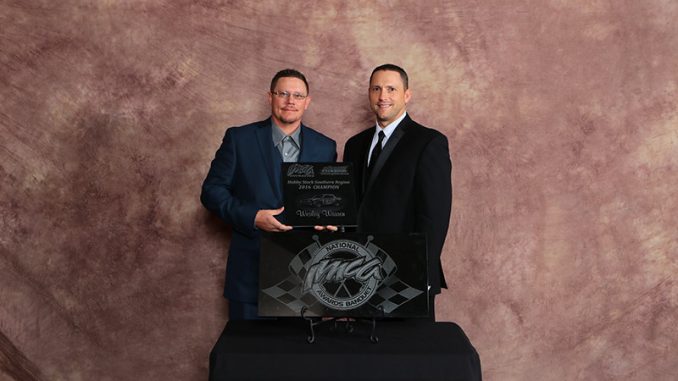 FAIRFIELD, Texas – Wesley Warren saw a lot of the Texas countryside during his drive to the Charger Chassis Southern Region championship.
The IMCA Sunoco Hobby Stock pilot from Fairfield won nine features, plus 281 Speedway track and Allstar Performance State honors in his third season in the division.
"We set goals of winning the region and state this year and we did it," said Warren. "It was a lot of work so we have a pretty good feeling of accomplishment."
While nearly half his starts came an hour away at Waco's Heart O' Texas Speedway, Warren also logged a dozen 4-1/2 hour trips to Abilene Speedway, while Cotton Bowl Speedway and 281 are both about 2-1/2 hours from home.
He was a three-time winner at 281, at Abilene and at Cotton Bowl, and posted 10 top-five finishes at HO'T. His first checkers at Stephenville, on March 26, came in his first race at 281 since total­ing a street stock there during the 2013 season.
"I like the Hobby Stocks – they're a challenge to drive and they're a lot of fun, plus the competition is unreal," said Warren, who towed with an open trailer to race frequently with the likes of Jeremy Oliver and regional rookie of the year Larry Underwood.
"Jeremy has helped with setup and my driving skills," he said. "Jeremy sharing his knowledge is the best thing I could have."
Warren finished 10th in the Saturday night Prelude at Boone Speedway and was third in IMCA Speedway Motors Super Nationals fueled by Casey's non-qualifier point standings.
"I didn't know if we stood a chance at Boone," he admitted, "but the competition was awesome and it turned out to be a pretty good trip."
Largely self-funded, Warren is a pipeline operator by occupation and worked a rotating shift every other weekend. He credited his coworkers with filling in on some of the Friday and Saturday nights he went racing.
"I'm going to stay in a Hobby Stock next season," said Warren, one of the division's biggest backers in the Lone Star State. "I want to help it grow in Texas."
Starts: 41
Wins: 9
Additional Top Fives: 18
HIS CREW: Wife Jessica and children Mason and Haley.
HIS SPONSORS: The Cowboy Hypnotist – his father Don – of Weatherford; Hammock Racing Chassis and James Hammock Jr. and Wicked Fast Transmissions, both of Lorena; and Oliver Motorsports of Robinson.