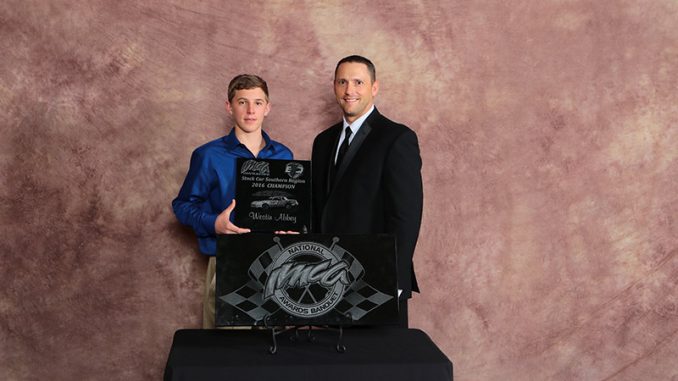 COMANCHE, Texas – After earning rookie of the year awards each of the last two seasons, Westin Abbey took the logical step up in 2016.
The 16-year-old from Comanche, Texas, became the youngest driver to win a regional IMCA championship, topping the EQ Cylinder Heads Southern Region for IMCA Sunoco Stock Cars.
Abbey, the youngest of four brothers to have made names for themselves on Lone Star State dirt ovals, won 14 of his 54 starts this season. He was eighth in the national points race with Boyd Raceway track and Allstar Performance State championships to his credit.
"We didn't plan on racing for points but we got caught up in it," said Abbey, a junior at Comanche High School. "The second year of experience really made a big difference."
The regional Hobby Stock rookie of the year in 2014, Abbey had won three features in his first Stock Car campaign. He won six straight times between June 4 and June 24 this season.
"This was a great year. It was pretty cool to win 14 times compared to last year," said Abbey, also first to the checkers in the post-point season Showdown special at Kennedale Speedway Park.
His three older brothers are best known for their Scoggin-Dickey Parts Center success, Steven as a rookie of the year, Dean as a two-time national champion and Jeffrey as this year's national and IMCA Speedway Motors Super Nationals fueled by Casey's champion.
Westin, however, won't be making the switch to an open-wheeled division in the near future.
"I like the Hobby Stock and the Stock Car better. The Stock Car races smoother than a SportMod. It just handles way different," Abbey stated. "I drove a SportMod in the middle of the year and didn't like it as much."
He usually traveled with Jeffrey – they won features on the same night seven times this year – and Abbey is looking forward to his second Super Nationals.
"This year was the first time I'd ever been to Super Nationals and it was a lot of fun, even with all the rain," he said. "It was fun being one of the faster cars there."
Starts: 54
Wins: 14
Additional Top Fives: 23 
HIS CREW: Father Randy and brothers Dean and Jeffrey.
HIS SPONSORS: Abbey Racing of Comanche; TM Racing of Keller; Swenson Shocks of San Antonio; 517 Designs of Whitney; Tumbleweed BarBQue of Stephenville; KS Engineering of Albert Lea, Minn.; and Dynamic Drivelines of Des Moines, Iowa.