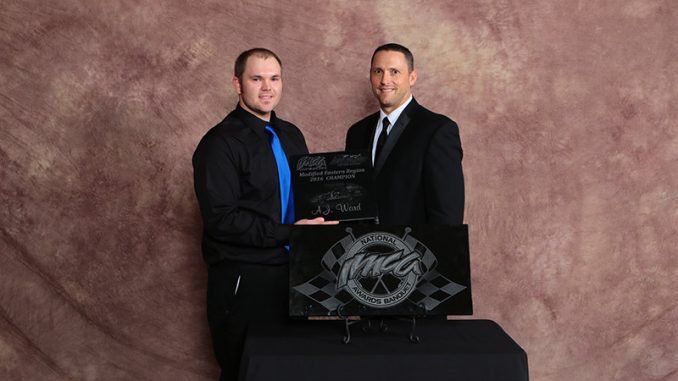 IONIA, Mich. – A.J. Ward was right on target when he decided the time was right to run for 20 wins and the Dirt Works Eastern Region championship.
Ward totaled 24 Xtreme Motor Sports IMCA Modified feature victories, including a pair in New York, while becoming the first Michigan driver to reign in the region since Rick Stout in 1996.
"I've been shooting for a 20-win season for a couple years. We got a new car (a 2013 BMS) and were flirting with 20 wins by early August," said Ward, third in the national point standings despite logging just 38 starts, and champion at Tri-City Motor Speedway for the third time in four seasons. "It's huge for me to be mentioned in the same sentence with Rick Stout."
From Ionia, Ward collected 22 checkers in his home state, winning 13 times at Tri-City, another five features at I-96 Speedway and four more at Crystal Motor Speedway.
"Tri-City re-opened in 2011 so it's still a relatively new track to all of us," he said. "I don't know what the secret to my success was there. I didn't drive any differently but I can tell you that the fastest way around is on the top."
Ward won 14 of 16 starts between June 3 and Aug. 5 to reach the 20-win mark.
He ventured to Skyline Raceway Park in New York to win an Atomicwraps.com Empire State Se­ries main event, and $1,000, in July. Ward made another trip east on the final weekend of the point season to wrap up the regional prize with first- and second-place finishes at the Outlaw Fall Nationals in Dundee, N.Y.
"It's hard to get in a lot of races in this region because of weather issues. We traveled to New York and moved up in the national point standings with our finishes on the last weekend of the season," he said. "We were searching all over for races and whether it was in New York or Ala­bama, we were going to go. We found out about the Fall Nationals about a week ahead of time."
Also winner of the Greased Pig. 6.0 special at Tri-City and a Fast Shafts All-Star Invitational starter, Ward couldn't pick out a single on-track highlight to his season.
"It would be hard to pick just one," said Ward, who will begin defense of his Eastern Region title early next season with a trip south to race with the Bay Area Emerald Coast Tour.
Starts-38                        Wins-24                           Additional Top Fives-7
HIS CREW: Ryan Bennett, Tony Williams, father Frank, girlfriend Brooke Brasington and son Kraton.
HIS SPONSORS: BMS by Xtreme of Great Bend, Kan.; Friesen Chevrolet of Sutton, Neb.; Four Seasons Mobile Pressure Washing, Level 5 Construction, Ionia Auto Glass, Darin Elliott with Green Ridge Realty, CL Trucking & Excavating, Smokey Mountain Tobacco, the Bennett family, Tommy Fochmocher, and Animal House Dog Grooming, all of Ionia; TWI Installation and S and M Video, both of Stanton; White's RV Rental of Fenwick; Brinn Inc. of Bay City; BK Guns and Stuff of Sarnac; Bob Harris Enterprises of Ames, Iowa; Quickcar Racing Products of Lebanon, Tenn.; and Close Racing Supply of Eldred, Pa.